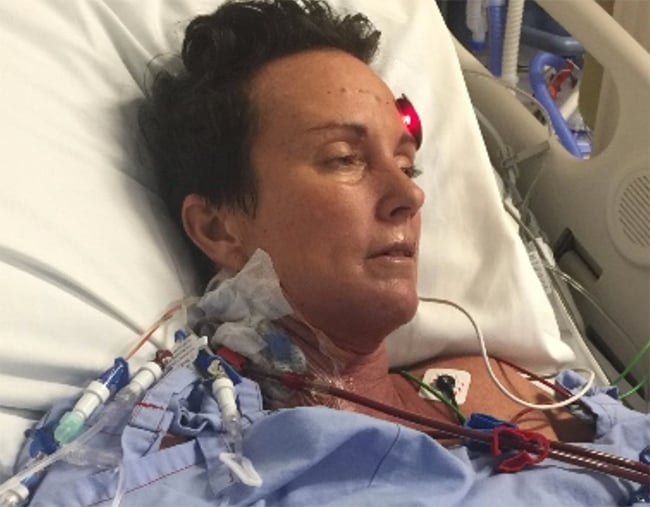 1. Byron Bay woman facing double amputation after contracting malaria during "dream trip" to Cambodia.
Volunteering in a Cambodian elephant sanctuary was a dream for 46-year-old Byron Bay woman Shelley Hill.
The mental health worker had been planning the trip for a long time and was diligent about receiving the necessary vaccinations before her departure.
But, when she consulted a doctor about the need for anti-malaria medication, she was told it would not be necessary because it would be the dry season, her GoFundMe page reads.
It was a decision that proved almost fatal, and will likely result in the amputation of her hands and toes.
"She started feeling sick straight after she got back but she just thought she had giardia or a tummy bug that she had picked up over there," her close friend Mel Wilson told Nine News.
Four days after returning from the week-long trip in February, Hill was rushed to hospital where she spent five days in a coma on life support. Her organs were shutting down and she was diagnosed with the most severe strain of malaria.
Though Hill has since regained consciousness, she remains on daily dialysis after kidney failure and is still fighting an infection.
In addition, restricted blood circulation has caused irreversible necrosis – or cell death – in her hands and feet that will most likely require amputation.
"On Friday [the doctor] said if he had to operate he would take all 10 toes and both hands," Wilson said.
"The ends of her fingers are completely black and they actually sound like wood when she taps them on a table or something. They are just wasted away and she can't feel either hand."
Malaria is an infection spread through mosquitoes in tropical and sub-tropical countries. The malaria parasites, which live in infected female mosquitos, are injected into a person's bloodstream via mosquito bites. The parasites infect the liver and blood cells, NSW Health states, and can cause a serious, sometimes fatal, infection.
The disease is preventable, and NSW Health recommends overseas travellers begin taking preventative antimalarial drugs several weeks before departure.
"Depending on the risk of malaria in the areas you are visiting, you may be advised to take drugs to prevent malaria," the website states.
According to Nine News, Hill works for Medibank Private on a suicide hotline and, before contracting malaria, was habitually fit and healthy.
A GoFundMe page has been set up to help Hill pay for the medical bills and the long rehabilitation that lies ahead. To donate to help Hill's recovery, click here.
2. Emma Watson debuts 'Time's up' tattoo with one, small problem.