1. ATTENTION: Blake Garvey has a secret girlfriend. We think.

Alert the masses, Blake 'love rat' Garvey has a new girlfriend… we think.
Now, if you're scratching your head thinking "hmmm, he sounds somewhat familiar," allow us to fill in the blanks.
Infamous for his time on The Bachelor in 2014, Blake originally decided that Sam Frost was the one, before dumping her right before the finale aired for second runner-up Louise Pillidge.
Then Garvey and Pillidge dated for roughly two years, before ending their relationship –  due to the "negativity" of their controversial romance. They subsequently sold their story to New Idea, because lemons, lemonade, etc.
Anyway, that was in 2016, and this is now.
Spotted by a paparazzo, Garvey was seen grabbing coffee with 23 year-old Tania Mondon – a 'Front Office Supervisor' at Crown Casino. Mondon has also previously worked as a model, and owned a 'Modelling College'.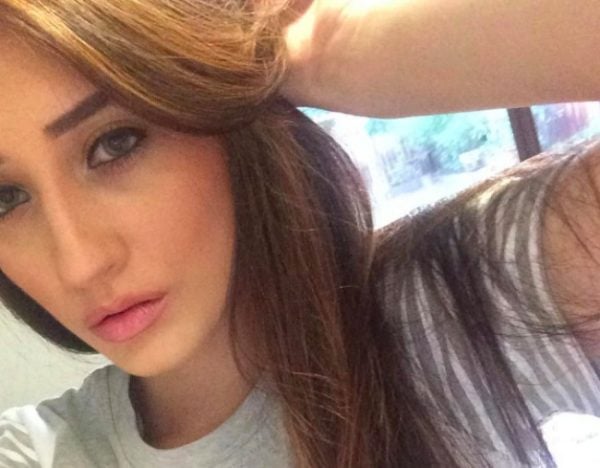 According to The Daily Mail, a secret source has said that they've been "dating for two years," however neither Garvey or Mondon are yet to confirm their relationship.
And now you're all caught up on the drama.
As you were.
2. "This one is NOT FOR REAL": Jessica Rowe has been involved in a bizarre advertising scam.
Jessica Rowe's fans who saw an ad for anti-ageing skincare cream Lutragen might have been persuaded to buy the product - after all, it had the TV personality's seal of approval.
Except, it turns out, it didn't. At all.
In an Instagram post, the 47-year-old warned her fans not to buy the product after learning they had stolen her image and used her name to flog their skincare without her permission.
"Sometimes I do like to share some of my favourite things with you. But this one is NOT FOR REAL.
"Someone is using my name and image to sell this product."
Jessica said there was a simple way to avoid online scammers using her name unlawfully.
"If you don't see me talking about a brand or product on my social feeds then it means it's not for real and I'm not associated with it in any way."
3. Jennifer Hawkins' top at Sydney Fashion Week is like a hot pink explosion of bubbly-goodness.
Jennifer Hawkins has worn a thing.
It's a bright pink boob tube which can only be described as a hot pink explosion of bubbly-goodness.
It's like a wearable pink version of Bubbly chocolate.
Hawkins, 34, wore the sexy deflated air balloon front row at Australian Fashion Week.
We can't stop staring at the pink-y, bubbly goodness.
4. Keira Maguire and Jarrod Woodgate have been papped shopping for engagement rings. Make of that what you will.

Gather your pot plants and your SPF50 plus.
We could have a bachie wedding on the horizon.
You see, Bach in Paradise's Keira Maguire and Jarrod Woodgate have been papped shopping for engagement rings.
According to the Daily Mail, the photos show the couple shopping for mango daiquiris rings in Queensland's Noosa.
Obviously, these photos are crystal clear and taken in close range, but are 100 per cent real and not at all a set up.
Apparently a "source", who is definitely not Wais the bartender, told the publication Keira was looking for something that would "look really good on Instagram".
"Jarrod didn't seem to mind that she was picking out her own ring. He just said, 'I want you to be happy because you'll be wearing this forever'," the source explained.
Anyhoo, we're very excited about the upcoming nuptials in which Jarrod's pot plant will be the ring bearer and Jarrod will be the shade of a ripe beetroot.
5. "There's no bigger vulture than you." Samantha Markle's awkward breakfast TV interview.

On Tuesday, Meghan Markle's half-sister Samantha Markle appeared on Good Morning Britain to 'defend' their father Thomas Markle, who reportedly staged paparazzi photos researching English things and was going to walk Meghan down the aisle but now isn't.
"My father has really suffered at the hands of the media. I think a person has a right to say 'Enough is enough,'" the 53-year-old told co-hosts Morgan and Susanna Reid.
It was at this point Morgan, who is known for making inflammatory comments, let rip.
"You say this is all the media's fault, because the media has been treating him in a shabby way, many of our viewers may have watched your activities and think you have treated your sister Meghan in a very shabby way," the 53-year-old said.
Read the full story here.