Yet again, Samantha Markle has managed to seep into the headlines for no other reason than to spread more poison about her half-sister Meghan Markle.
This time, Samantha's gripe was with Meghan and Prince Harry's wedding guest list for their big day on May 19 at St George's Chapel in Windsor Castle.
In a Twitter rant, the 53-year-old accused the couple of inviting "complete strangers", claimed "no one" from the Markle family made the cut, and ironically said she deserved an invitation "out of respect".
"Out of respect and humanitarianism, the Markles should be invited if 2000 complete strangers are," she wrote, according to The Sun. "Our uncle, brother, me, best friend of 30 years, nephews. Our issue is not a matter of closeness. Family is family."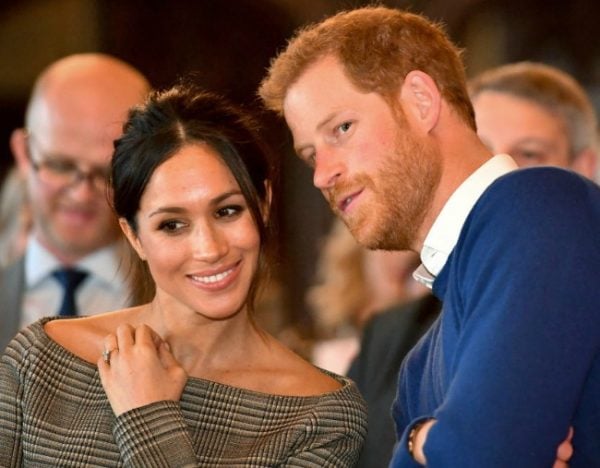 Previously, she'd fired off a rather passive-aggressive, presumptuous tweet.
"The Markle family is looking forward to our wedding invites. No one has one yet. Still waiting... Excited!"
She then bemoaned how hard 36-year-old Meghan - whom she hasn't seen since 2008 - was making her life by not yet sending the invitation she was never getting in the first place.
"Everyone is making arrangements and it's difficult to organise everything as you can imagine," Samantha lamented.
Now, it appears she finally accepted the truth: an invitation isn't coming her way. It never was. But instead of accepting this quietly, she felt the need to express that the issue was not a matter of how close she was with her sister, but that thousands of strangers have been invited.
I've got a bone to pick here. Firstly, I'm not sure where Samantha got the figure that "2000 complete strangers" would watch Meghan and Harry exchange vows, but this is rather... inflated.
What we know is that about 600 people are invited to the wedding ceremony. These are 600 people the couple hand-picked themselves, people they have a direct relationship with. Meghan's parents are expected to attend, with her father reportedly set to walk her down the aisle. This guest list is far, far smaller than the 1900 people who were invited to Kate Middleton and Prince William's wedding in 2011. Not even the darn Prime Minister is invited to celebrate their day.
After the wedding ceremony, yes, there will be strangers. About 2640 members of the public will be at Windsor Castle to watch the arrival and departure of the newlyweds, their guests and the carriage procession. Kensington Palace announced that 1200 of them would be selected by local royal representatives from "all corners of the UK", including young people who have shown strong leadership and served their communities.
Making up the remaining numbers are 200 people from charities and organisations, 610 Windsor Castle community members, 530 members of the royal households and 100 school students.
And again, I'd like to stress: these 2640 people are going to watch the parade from outside. They are not going to the ceremony, nor the reception. So they certainly aren't going to be chomping into a slice of royal wedding banana cake.
But regardless of the inaccuracy of Samantha's tweet, there's another part to this that's far more frustrating.
"Family is family."
What an utterly ridiculous and simplistic phrase.
Family is many, many things. Family is important and beautiful and snug. Family is also complicated and messy and - sometimes - downright awful.
So when it comes to weddings, that one day where you get to hang out in a big white dress with literally every single person in your life that brings you love and laughter and warmth, you shouldn't have to invite anyone who has the opposite effect on you.
And it seems pretty clear that Samantha lands in the latter camp. Ever since Meghan's romance with Prince Harry was revealed, Samantha has tried to seize the spotlight by providing hurtful commentary about her half-sister.
In November 2016, she said she was a "social climber" who shunned her family when she became a Hollywood star.
In April last year, she announced she was writing a 'tell-all' book called "The Diary of Princess Pushy's Sister". Subtle. (For what it's worth, radio host Kyle Sandilands called a "loser" and told her "don't use your sister's name to trick media organisations into pushing your s**t book.")
LISTEN: Meghan Markle is the role model young women need. Post continues below.
In December she decided to criticise Prince Harry for saying Meghan had enjoyed growing close to the royal family. "Actually she has a large family who were always there with her and for her," Samantha chimed in.
The following month, she responded to a photo of Meghan wearing a designer dress for her engagement photo, saying "if you can spend $75,000 on a dress, you can spend $75,000 on your dad".
Then in February, she again insinuated Meghan was greedy for not helping their bankrupt father. "Honestly, what she could spend [financially] in a weekend would greatly help dad... I think you need to step up to the plate and make sure he is well taken care of."
Now, Samantha is at it again, demanding an invitation... "out of respect".
Funny, that.
Throughout all of this, Meghan has remained quiet. Why waste her time addressing such nonsense?
Because while Samantha tries and tries her hardest to make the royal wedding all about her, she is only making herself look like an imbecile and a bully.
Nobody - nobody - is ever simply entitled to a wedding invitation.
And certainly not a spiteful, fame-hungry half-sister you haven't seen in a decade, who has a track record of using your fame to sell a few copies of her book.
Samantha needs to back away. Y'know, "out of respect".
What do you think of Samantha Markle's demand for a royal wedding invitation? Tell us in the comments below.
You can follow Sophie Aubrey on Twitter.