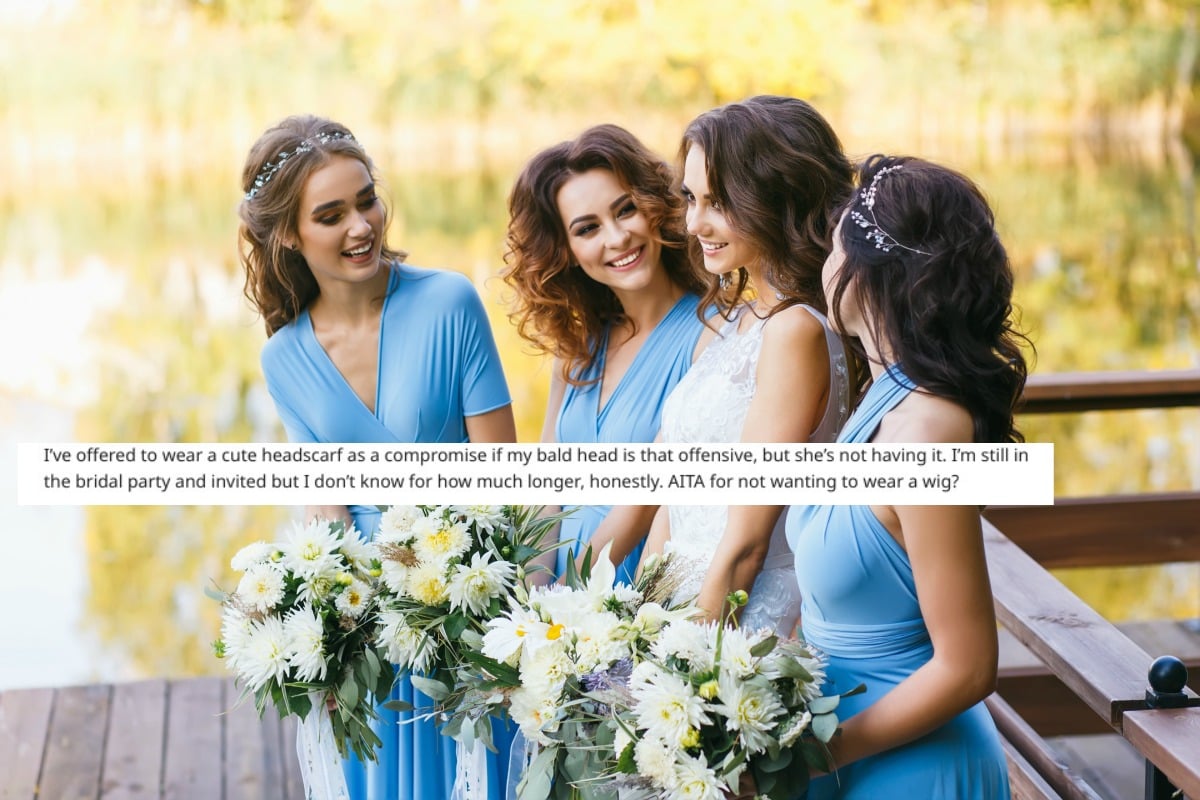 Here we go again.
Another day, another gloriously insane wedding story from strangers on the internet who we are forever grateful for.
Today, we bring you the bride who tried to force her bald friend to buy a wig for her wedding.
Standard.
It seems the dress, makeup, hairstyle and shoes the bride traditionally chooses for her bridesmaids were simply not enough.
Mamamia staff discuss how much you should you put in a wishing well. Post continues after video.
Posting to the Reddit thread "AITA" (am I the a***hole), the woman shared that she had kept her hair short – often completely shaved – for many years after growing up in a "very strict Christian family" where she was forced to keep her hair long.
But her friend, who she's known for years, is worried that her bald head won't look good in pictures, so she's requested she buy a wig on top of the many other costs that being a bridesmaid has already incurred.
"One of my good friends is getting married in August and she chose me to be one of her bridesmaids," she explained, adding that "everything had been cool", until she received an unusual call from the bride.
"She's always been the sweetest person and she showed no signs of going Bridezilla before this, until she called me up about three weeks ago and asked me if I could do her a favour and wear a wig to her wedding."
Erm.
Her reasoning? She wanted each bridesmaid to look exactly the same – matching from their hair to their dresses for her photos.
"She explained that she wanted all of her bridesmaids to match and that she wanted us all to look good in the pictures. I told her I really didn't want to get a wig, and we've been on bad terms ever since."
What's more, the bride's friends have told the original poster she's overreacting for being hurt by the request.
"All of our friends are on her side because 'it's just a wig' and 'it's not like she's asking you to grow out your hair for the wedding, so she's not the one being unreasonable'," the woman explained.
"The thing is, I don't know how many of you will be aware of this but a wig that will actually look good/realistic is expensive. I've already paid for a bridesmaid's dress, new shoes, and plane tickets, as well as a small deposit for the person who's going to do our makeup. This wedding has already cost me a fortune. I could afford a wig if I wanted to, but do I really want to spend the money on something I'll never wear again when I've already spent a ton? Not really."