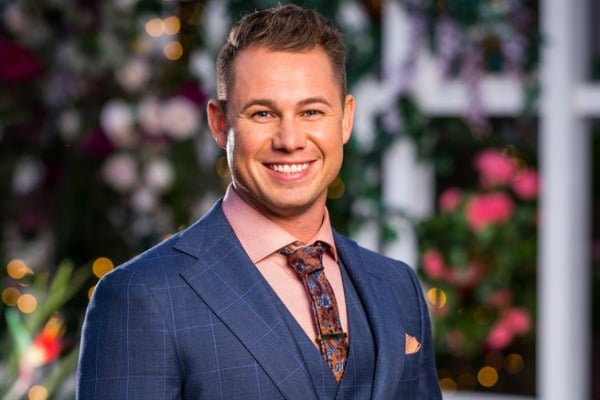 To catch up on all the Bachelorette Australia 2019 recaps and gossip, check out Mamamia's recaps and visit our Bachelorette hub page.
When Jamie entered The Bachelorette mansion wearing his firefighting uniform while holding a puppy, fans quickly picked him as a front-runner for the season.
Before long, however, that… quickly changed.
In the few weeks that Angie Kent's season of The Bachelorette has been on our screens, the 39-year-old firefighter has cemented himself as this season's resident 'Stage Five Clinger'. In fact, he even admitted to "partially" being one himself. ¯\_(ツ)_/¯
Since the show began, some fans have questioned whether Jamie could simply be the victim of clever editing.
Mamamia speaks to The Bachelorette Australia's Angie Kent. Post continues after video.
But according to fellow contestant Haydn, that's not the case.
The 32-year-old firefighter, who was sent home during last night's episode, told Mamamia that Jamie was incredibly "full on" in the mansion.
"Jamie is full on," Haydn said. "What he is like on TV is what he was like 24/7. I actually tried to distance myself from him a little bit because I couldn't deal with how much energy he has."
"It's… a lot to deal with," he added.
Even off screen, Haydn said that Jamie was almost always talking about Angie – and his time (or lack thereof) spent with her.
"He liked to constantly debrief – he was so full on," Haydn said.
"I hope [Angie] realises that he is full on. But if that's what she wants, then I guess he is the perfect person for her."