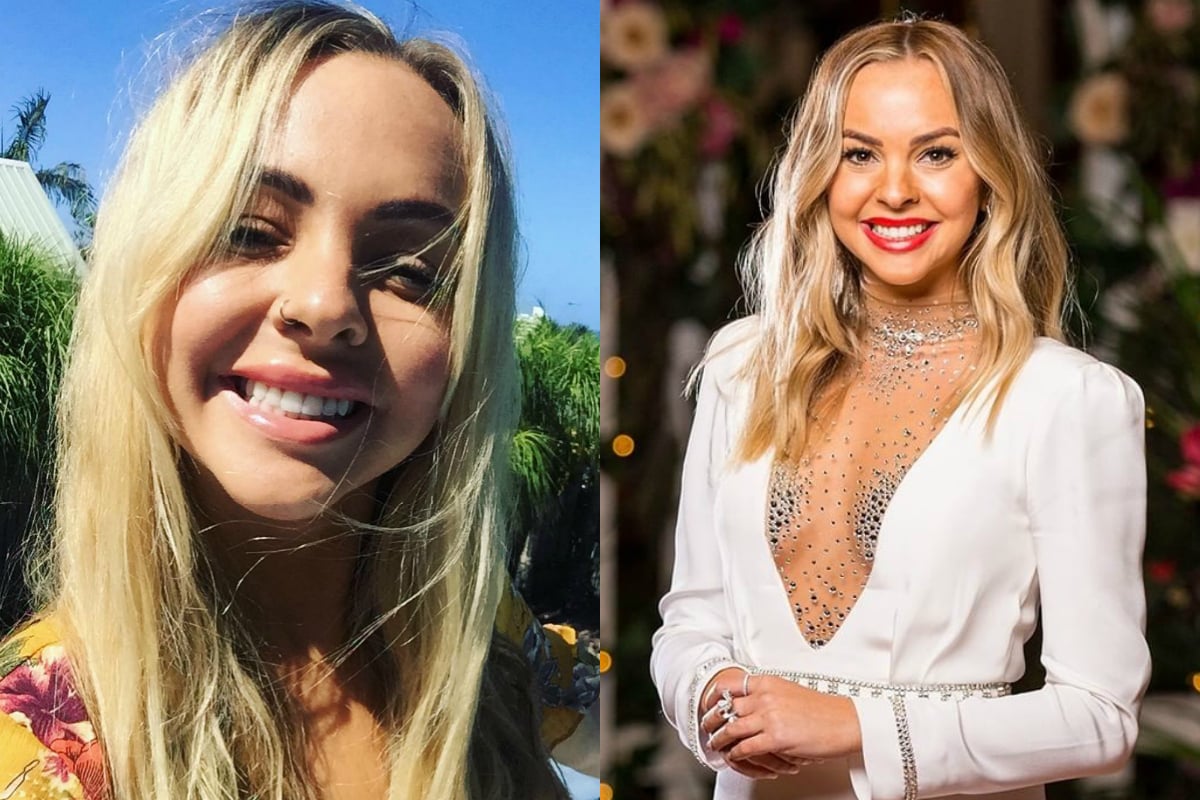 We're calling it. Angie Kent is the best Bachelorette Australia has had yet.
Not (just) because she's hilarious and a bit weird and has told many of her badly behaved suitors on the reality TV series to jog on, but because the 29-year-old's completely unfiltered openness is the breath of fresh air the Bach franchise needed.
Previously, Angie has spoken candidly about being single for most of her adult life, her struggle with letting people in, and her experience with an eating disorder that consumed her for years.
You can check out our super fan interview with Angie Kent in the video below. Warning, it's hilarious. Post continues after video.
Now, Mamamia can exclusively share that in Wednesday night's episode, she will also touch on the health condition she shares with one in every 10 women: endometriosis.
Why? Because as the 758,000-plus Aussie women living with the debilitating symptoms of the chronic illness know, women with endo can find it harder to fall pregnant. Add to that the helpful ticking biological clock all of us have in the back of our minds and trying to fall in love with someone in a matter of months on national TV, and the whole 'settling down thing' becomes a touch more complicated.
Speaking to Mamamia ahead of Wednesday night's episode of The Bachelorette, Angie said endo has impacted almost every aspect of her life. She was diagnosed in 2016, but had been putting up with not only the pain, but also the negative emotional and social impacts of endo, since her last few years of high school.
"My symptoms were pretty hardcore. My period was really bad from high school but it got worse as I got older, it started to get really bad in my early twenties. The main thing is I'd feel like a crazy person every single month for the three days leading up to my period, and then the pain increased during," Angie told Mamamia.
"I'd not have a period for ages or just bleed for months on end. It got to a point where I thought 'I can't live life like this'. It was so debilitating, the pain was excruciating. It was unbearable, I wouldn't want to get out of bed. Sometimes I'd keep bleeding and bleeding and bleeding, and wondering when it was going to stop."