1. "I'm very happy to tell everyone." Roxy Jacenko has opened up about how 'nothing' about her is 'real'.
Roxy Jacenko isn't afraid to open up about her use of plastic surgery.
At her Trials and Tribulations seminar on Wednesday, the business woman and owner of Sweaty Betty PR joked to audience members about how 'nothing' about her is 'real'.
"Life does look very glossy but I also think I'm quite honest," the 38-year-old told the room of PR hopefuls.
"If I fix my nose because it enters a room before me, I'm very happy to tell everyone."
"If I've got tits like sultanas, well, I'll get them made bigger. That's just how I am," Jacenko joked.
The PR mogul has made no secret of her plastic surgery in the past, sharing photos to social media of her 'new nose' after rhinoplasty.
At the seminar on Wednesday, the mother-of-two also talked about her work ethic, adding that she was still responding to emails while preparing to give birth to her daughter, Pixie.
"I was having Pixie and I was doing my emails right up until they confiscated my computer," she said.
Even when her husband, Oliver Curtis, was in the process of sentencing for insider trading in 2016 – Jacenko still stuck to her strict work regime.
"I did a seminar in the morning and then I went straight into Ollie's sentencing. It was challenging but you have to keep going."
2. Sophia Bush on how she was 'talked into' marrying One Tree Hill star Chad Michael Murray.
They were one of our favourite 2000's couples – but it turns out things weren't as happy as they seemed between Sophia Bush and Chad Michael Murray.
Actress Sophia Bush says she felt pressured to marry her One Tree Hill co-star Chad Michael Murray.
The couple met on the set of the American drama series in 2005. Their short-lived marriage lasted just five months.
After their break-up, the couple continued working together on the show until 2009.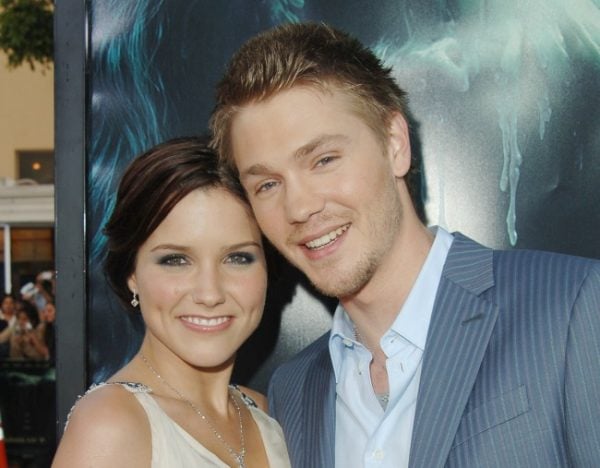 Speaking to Andy Cohen on his radio show Andy Cohen Live this week, Bush admitted that she was 'talked into' marrying her co-star.
When Cohen asked her how she was talked into the marriage, Bush answered: "How do you let everyone down... When you have bosses telling you that you are the only person who gets a person to work on time and 200 people either get to see their kids at night or they don't because our days start on time."
Bush also spoke about how the couple's marriage provided more drama than the show itself.
"Hilarie [Burton, One Tree Hill co-star] and I used to laugh and we were like, 'If we had a behind the scenes show the drama would be so much f*cking better than the drama that the writers write,'" she added.
3. Why Schapelle Corby's latest Instagram post has everyone talking.
Oh dear.
Schapelle Corby has gone and done something a 'lil bit weird on Instagram again. To recap quickly on the convicted drug smuggler's social media activity since she left Bali in May last year:
She's advocated for missing children, tried just about every Snapchat filter she missed while she was in prison and released her first single called Palm Trees.
Now, the 40-year-old has shared a new image on her Instagram account that's somewhat concerning.
It's... it's her... with her fingers interlaced with a person's... bare toes.
What's worse than sharing a photo of yourself holding someone's foot up to your face is not giving ANY CONTEXT AT ALL.
All we got was the caption "#imstillwearingthesmileyougaveme" and a tagged account for a stand up paddle boarding company in Bali.
There are still so many questions to be answered here.
4. Millie Bobbie Brown quits Twitter after cruel memes target her.
Not cool, Twitter, not cool.
Millie Bobby Brown has been forced off Twitter after relentless bullying in the form of homophobic memes.
It's worth keeping in mind here that The Stranger Things actress is only 14 years old, and bullying in any way, shape or form is always completely unacceptable.
Apparently Millie was Photoshopped onto a series of lewd memes, which accompanied the hashtag "TakeDownMillieBobbyBrown".
According to News.com.au, some of the memes were even attributed to members of the LGBT community, who found them "amusing".
Millie is a supporter of gay rights and a vocal advocate of anti-bullying initiatives.
Although she is yet to comment on the memes, a "page not found" message pops up on Twitter when you try to search for her.
5. What the 'Stefanovic' surname has done to Sylvia Jeffreys.
You'd be hard-pressed to find a day when the name "Stefanovic" doesn't appear in an Australian headline, and with so much media attention surrounding brothers Karl and Peter Stefanovic, Sylvia Jeffreys is probably wondering what she's married into.
The 32-year-old wife of Peter Stefanovic has apparently had a hard time adjusting to life under a microscope, according to her 36-year-old husband.
Speaking to News.com.au, Peter said the "unrelenting" attention his family receives almost caused the couple to elope.
"We both kind of always felt uncomfortable around that [paparazzi]," he said.
"We are just journalists at the end of the day. We did think about [eloping] when we realised there might be potentially a drone involved. We thought maybe we should just do something beforehand quickly at home and then have the party afterwards.
"But then we thought, nah don't worry about it. Let's just carry on and do what we were originally going to do and have a big party. And that's what it was at the end of the day, just a really good party."
You can read more about Sylvia and Peter and the pressure of being a Stefanovic on Mamamia.