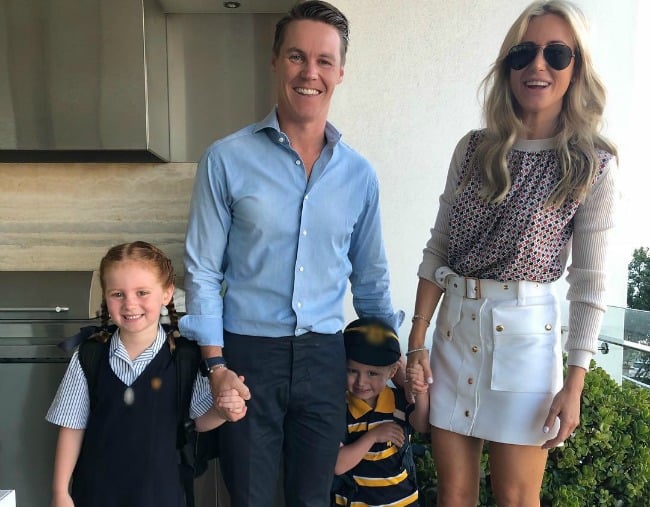 How do you tell your children their father is in jail? For Roxy Jacenko, whose husband Oliver Curtis spent one year in prison for insider trading, the solution was simple: you don't.
The PR guru instead told her children Pixie and Hunter – who were five and two years old when Oliver was sentenced in June 2016 – that their father had gone on a very long business trip to China.
"I've said he's in China. I think there are certain things you choose to tell a child," she said on 60 Minutes in August 2016.
And as hard as it was to maintain at times, the story had worked perfectly fine until just last week. A case of schoolyard taunting last Friday forced the 37-year-old to sit her kids down and tell them the truth.
Roxy Jacenko's 'In a Lift' moment. Post continues.
Roxy and Oliver told radio hosts Kyle Sandilands and Jackie 'O' Henderson about the no-doubt difficult conversation while appearing on their KIIS FM breakfast show Thursday morning.
"We've had a conversation, just recently," Oliver replied when Jackie asked if the kids now knew where he had been.
Roxy said she actually told the kids while her husband was out because her daughter had been told by another child at school.
"I've just told them… I had to. Poor Pix got accosted in the playground last Friday and kids said to her 'oh your dad's in jail'," she said.
"So she told me when she got home."
The Sweaty Betty PR founder said she didn't blame the child, but was frustrated at their parents who she thought must have spoken about Oliver's experience in front of them, which they later repeated "like parrots".
"I mean I think you've got a job as a parent to make sure that what you say is not in front of the children that's going to be detrimental to another child. There's enough bullying as it is."