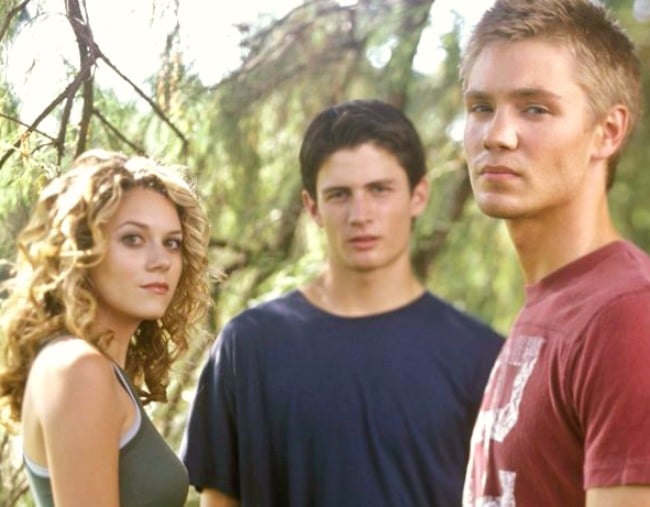 It's been a tough day for One Tree Hills fans.
Lovers of the classic noughties teen drama were sent into a frenzy when individually Hilarie Burton (Peyton Sawyer), Danneel Ackles (Rachel Gatina), Robert Buckley (Clay Evans), and Antwon Tanner (Antwon "Skills" Taylor) all posted a sneaky behind-the-scenes shot of them working with production equipment.
The hashtag #christmas2018 accompanied each photo.
Behind the scenes…..#christmas2018???? @… https://t.co/F9YkqDyEl4

— Hilarie Burton (@HilarieBurton) June 11, 2018
Although key characters like Chad Michael Murray (Lucas Scott), Sophia Bush (Brooke Davis) and James Lafferty (Nathan Scott) were missing in action, that didn't stop people from leaping to the conclusion that there was a One Tree Hill reunion in the works.
Ah!!! This is it right? It's happening?!?!?! pic.twitter.com/Wr5quaUiam

— Alexandra (@alexmacsimp) June 11, 2018
I will literally eat my own arm if a one tree hill reunion happens on screen

— iol.e ???? THIS IS US (@shomajesty) June 11, 2018
If they're doing a One Tree Hill reunion I'll probably scream.

— Lisa ???? (@LisaxMishell) June 11, 2018
However, here is where the story gets weird.
A day after the photos were posted, all four of them have now been deleted, with no further explanation of the #Christmas2018 project given.
Luckily, the good people of Twitter have taken screen shots and shared them for all to see, but it's still a bit suspicious none the less.
WAIT A GODDAMN SECOND. WHAT IN THE ONE TREE HILL IS GOING ON HERe pic.twitter.com/XydaNqAHtj

— ???????? (@kaylaballeste) June 11, 2018
And now – just because OTH fans haven't been through enough already, ex-cast member Bush has officially set the record straight, and it's not great news for fans.
"It has nothing to do with our show. I'm sorry," she exclusively told Bustle, speaking about the mysterious photos.
"There are no plans. I don't know if that's to say there never will be, but literally there is not a single discussion of a plan in the works at all."
"I always feel like I'm raining on people's parade with that . . . But I just want to be honest."
We're sorry to be the bearer of bad news, but might we suggest watching the OTH opening credits for a hit of nostalgia?
Although it seems like we're definitely not getting an official reboot of the drama, as glass half full people, at least we know there's something in the works.
We could very well be seeing an One Tree Hill alumni filled project on our screens very soon, and that's kind of the same thing… right?