Amongst the likes of Dolphin-obsessed Troy and Ashley, dysfunctional rappers Tracey and Dean, and Gab and her demon-possessed 'husband' Nasser, Sarah Roza and Telv Williams have been the ray of sunshine we've all needed to get through the 6823 years left of Married At First Sight's current season.
They've been a breath of fresh air, seemingly the only functioning, normal couple paired together by the so-called 'experts' on the reality dating show.
But last night, the perfect couple began to crumble, when the 38-year-old Sarah and 33-year-old Telv appeared to argue over… Snapchat.
Watch Sarah and Telv argue on last night's episode of Married At First Sight:
It appeared to begin with Telv checked his social media – and laughed out loud – while Sarah was speaking to him.
"We were in the taxi and I was trying to tell you what's wrong and you were paying attention to Snapchat," Sarah told Telv.
Later, the duo were pictured arguing in a bathroom, with Sarah eventually storming out, telling her 'husband' he was an "animal".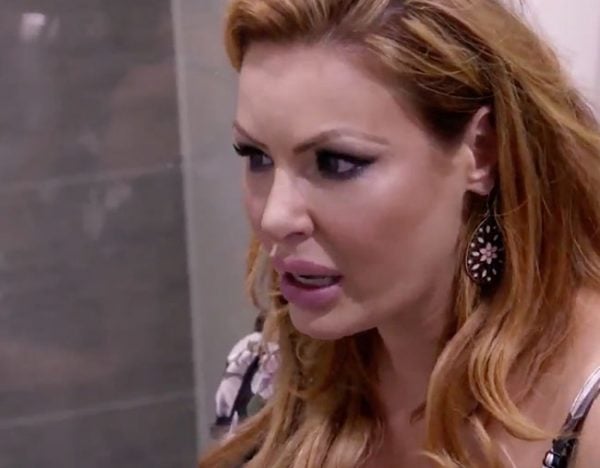 After the episode went to air, fans expressed their confusion about how the fight escalated so quickly, with some targeting Sarah for appearing to get so upset over something so little.
"You over reacted in tonight's episode, sorry Sarah. It wasn't a big deal," one fan wrote on her Instagram page.
"I am concerned about your drama lovely lady," another commented.
Sarah and Telv are fighting and it's making us hurt inside. Clare and Jessie Stephens debrief, on our Married At First Sight recap podcast. Post continues after. 
But Sarah quickly responded to her haters, sharing that the real reason behind the argument was cut from the episode.
"You all think I was just being overly sensitive because I had my period?! NO. Definitely not the case..." she wrote.
"I'm a strong, resilient woman and it takes a LOT to make me upset like that but of course it doesn't make sense to you all.
"The real reason for the fight (which definitely wasn't the first one we had) was completely edited out..."