Don't expect to see Prince Harry and Meghan Markle sharing a traditional balcony kiss on May 19.
It's become a bit of a tradition for royal newlyweds to share a kiss on the balcony of Buckingham Palace following their wedding ceremony, but Harry, 33, and Meghan, 36, have decided there will be none of that.
Insiders say the couple aren't deliberately going out of their way to be different though – it's simply a matter of distance.
The couple will be getting married at St. George's Chapel in Windsor Castle, which is about an hour away from Buckingham Palace. That's a hell of a drive just for a photo op.
Also, St. George's Chapel doesn't actually have its own balcony, which means the last time the couple will be seen on their wedding day will probably be during the carriage procession, as they head to their reception at Frogmore House.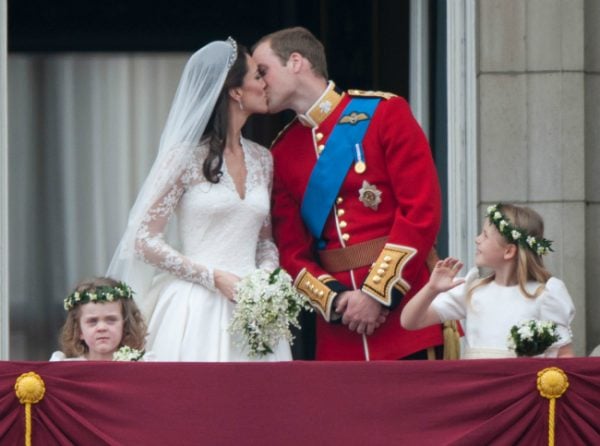 The tradition of newly married royals appearing on the balcony of Buckingham Palace following their wedding ceremony started with Queen Victoria in 1840.
Although she didn't actually share a kiss with her new husband, Prince Albert, she did step out to address the crowd who had gathered on the street below.
The Queen and Prince Philip also stepped out onto the balcony following their 1947 wedding.
But Prince Charles and Princess Diana were the first royal couple to actually share a kiss on the balcony back in 1981, after being encouraged by the cheering crowd.
After this, Prince Andrew and Sarah Ferguson did it in 1986, and then Prince William and Kate Middleton did the same after their 2011 wedding.
LISTEN: Meghan Markle has a single grey hair and is getting no presents. Post continues below.
The balcony kiss isn't just a matter of flaunting their coupled up status to the world, either.
Under the Church of England, kissing isn't allowed in the church following the exchanging of vows.
"There will be no kiss during the wedding ceremony," the Very Reverend Dr. John Hall, Dean of Westminster, said before William and Kate's wedding, as reported by Extra TV at the time.
"We don't do that in the Church of England. That's sort of a Hollywood thing: 'You may now kiss the bride.' It doesn't happen here."
So, now you know.