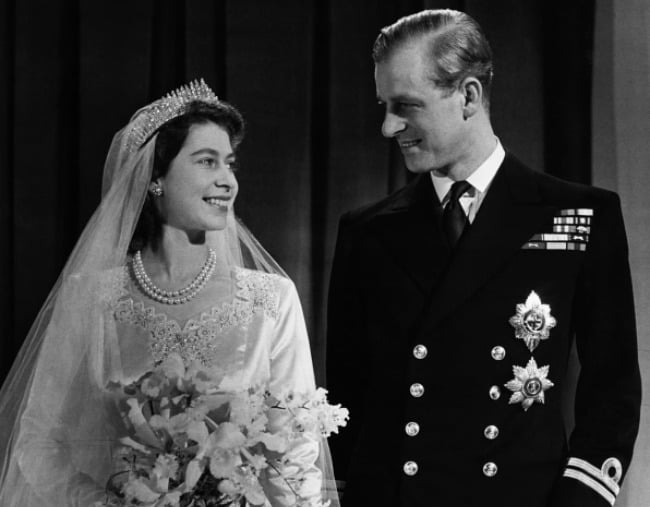 For everything Prince Harry, Meghan Markle and the Royal Wedding in one convenient place, visit our Royal Wedding hub.
With such a spectacle like a royal wedding, it's hard to imagine even the teeniest of frills or finest of hairs falling out of place.
Every minute detail is meticulously planned so that by the time the day swings around, the facade of the world's most famous family will not lose any of its shine.
At least, that's what they hope.
But when the official photos for Queen Elizabeth and Prince Philip's wedding day in November 1947 were taken, there was one itty-bitty problem: The bride's bouquet had gone AWOL. And this, pals, simply will not do.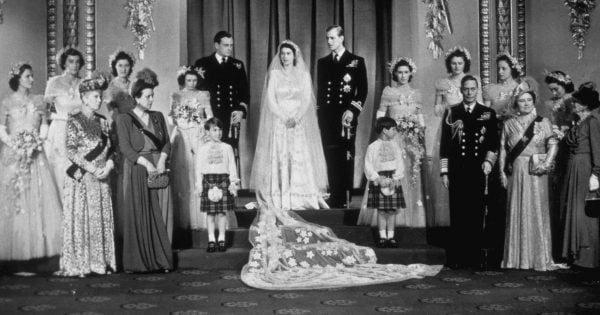 You'll notice in the above photo, that while the bridesmaids are all clutching their own bouquets, the bride's clasped hands are empty. And certainly not on purpose.
The cascading bouquet of white orchids was reportedly lost sometime between the wedding ceremony and the official photographs being taken, leaving the future queen empty-handed.
The mystery of the disappearing flowers has never been solved, but it is one that has amused royal watchers for many decades.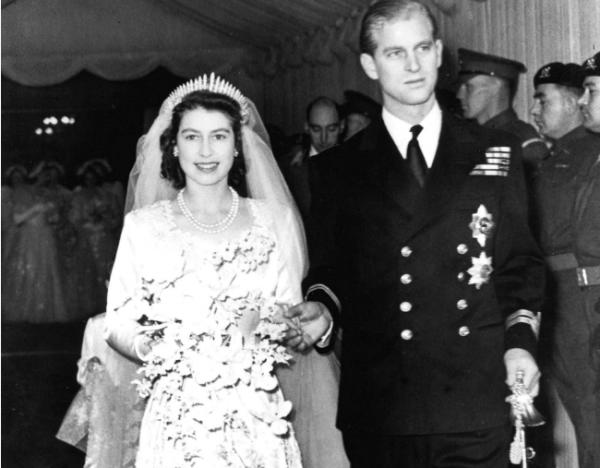 A replacement bouquet had to be created by the appointed florist, Martin Longman, so the newlyweds could take new photos during their honeymoon - flowers in hand.
The florist's son David explained what happened in new ITV documentary Invitation to the Royal Wedding.
"If we go back to the Queen's wedding in 1947, when you look at the state photographs of all the bridesmaids and the royal guests, and there is the Queen without a bouquet. It got lost," he said.
"So in the middle of their honeymoon they had to get dressed up again in their wedding clothes and my father had to provide another bouquet for those photos."
The mishap also sparked a new tradition: every royal bride now has a second bouquet readily available, just in case the first gets accidentally put down and forgotten. Meghan Markle will be no exception on her wedding with Prince Harry on May 19.
LISTEN: The Royals are only allowed one shade of nail polish. Post continues below.
The vanishing bouquet wasn't the only wedding blooper for Elizabeth II.
On the morning of the big day, the bride's diamond tiara snapped. As it was a gift from her grandmother, the then-princess refused to replace it and instead had it fixed by a jeweller just two hours before she walked down the aisle.
She also realised she'd left behind her two-strand pearl necklace, and sent out a staffer to collect it for her just in the nick of time.
But hey, what's a wedding without a few hiccoughs?