If you're attending the royal wedding on May 19 – firstly, lucky you. Secondly, you'd better make sure you're across the rather strict and complicated dress code.
(This is definitely not going to be anything like your cousin Linda's wedding.)
1. Hats must be worn inside the church.
Remember how your mum would always tell you to take your hat off inside the house? That rule doesn't apply to the royal family, apparently.
Female guests are expected to cover their hair with hats, and it's actually considered a big no-no if you don't wear a hat inside the church.
It's also a way of showing off your wealth – the more elaborate the hat, the more money you have. Clearly.
2. The bride's bouquet must have myrtle.
This is something that started with Queen Victoria, and it's been a royal tradition ever since.
Myrtle is considered the "herb of love", and Queen Elizabeth, Princess Diana and Kate Middleton all had it in their bouquets too, so you can bet on Meghan Markle, 36, doing the same.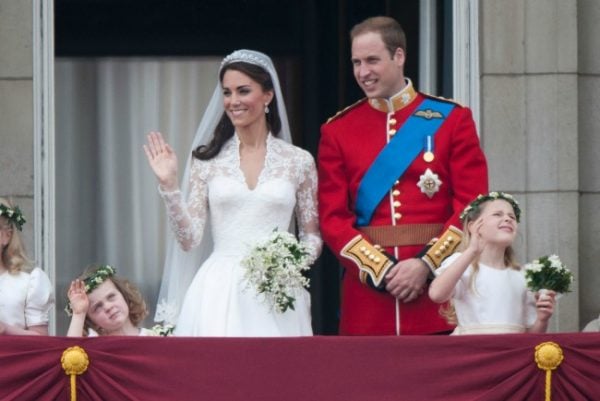 3. The bride's dress should be made by a British designer.
Another trend started by Queen Victoria. Although this one isn't a rule, it's encouraged, to help give the British economy a bit of a boost.
Interestingly, Queen Victoria was the first bride to wear white, opting for a lace dress to help draw attention to the artisanal lace counties who were struggling after the Industrial Revolution in Britain.
It worked, and brides have been wearing white ever since, with Queen Elizabeth, Princess Diana and Kate Middleton all employing British designers to create their gowns.
4. Prince Harry will be wearing his military uniform.
Although he's no longer serving, Prince Harry, 33, spent 10 years in the British military, so you can expect him to wear his captain's uniform when he says "I do".
This is another royal tradition, which started with Queen Victoria's husband, Prince Albert, and Prince Phillip, Prince Charles and Prince William all wore their military uniforms when they got married.
5. Only natural nail polish is to be worn.
Don't expect to see Meghan rocking any vibrant nail polish colours on her big day. Her options are pretty limited, with a natural palette being the go-to for royal brides.
LISTEN: The Royals are only allowed one shade of nail polish. Post continues below.
6. No wedge heels.
This is basically a rule because the Queen hates wedge heels, so no one else is allowed to wear them.
And if they do, well, it's off with their heads. Kidding.
7. Nude stockings must be worn.
Is it just us or does it feel like the guys are getting off pretty easily here?
This is another quirk of the Queen's, so if your legs are showing, you'd better cover them up with sheer stockings.