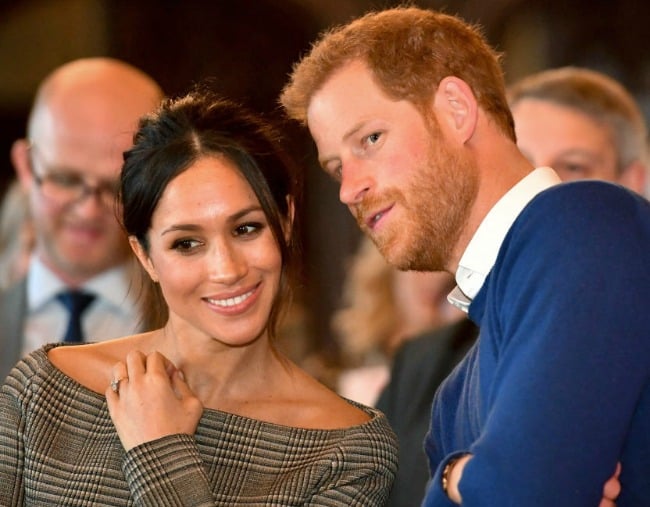 For everything Prince Harry, Meghan Markle and the Royal Wedding in one convenient place, visit our Royal Wedding hub.
Prince Harry and Meghan Markle's wedding is just around the corner – and so is the premiere of TV-movie (we're sure very accurately) based on their love story.
But not everyone is as excited about Harry & Meghan: A Royal Romance as us. In fact, those in Buckingham Palace are said to be quite concerned about one scene in particular.
The film's director Menhaj Huda told Vanity Fair that he has it on good authority that Queen Elizabeth's press office have seen the trailer and are stressing out about the suggested sex scene.
Watch the trailer for 'Harry & Meghan: A Royal Romance'. Post continues.
"What I've heard is that they're seriously worried about the sex scene," he told the magazine.
His source? "My wife's best friend has been dating the press secretary of the palace."
Anyone who's watched Netflix's The Crown has a good idea of what type of issue concerns the press office and just how worried they can get. Frankly, we're enjoying imagining the next generation of 'moustachioed' men getting their knickers in a knot over what will likely be a very tame sex scene – if there is even one at all. We could be in for the classic pre-2010 rom-com treatment of kissing before the camera pans upward and the next scene we see is them waking up in bed together.
The film's producer, Merideth Fin, isn't worried about any royal concerns.
"Let them worry," she said. "People have sex."
The reason why Meghan Markle and Prince Harry won't get getting presents on their wedding day. Post continues.
Harry & Meghan: A Royal Romance is set to air on Lifetime in the US on May 13 ahead of the royal wedding on May 19.
Over here, Channel Seven has the rights to air the film, but is yet to announce when exactly that will be.