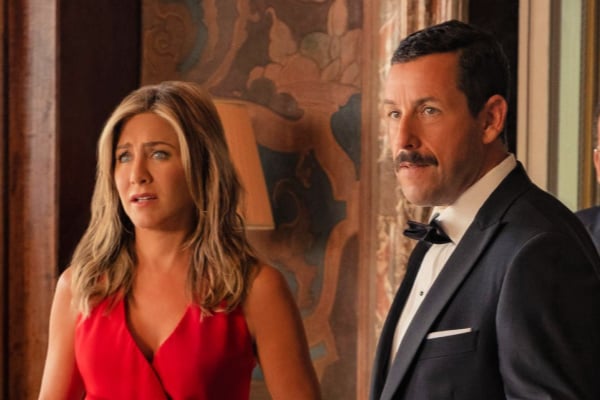 This week, there's a good chance you saw promos for a movie called Murder Mystery on your Netflix homepage.
You also probably scrolled right past it, preemptively chucking it in the crap bucket along with some of the other hopeful Netflix movies that recently let you down (Dude, The Perfect Date, Sierra Burgess is A Loser, etc. etc.)
But, before you blacklist the Adam Sandler and Jennifer Aniston film forever, Murder Mystery might just be better than it looks.
In fact, it's already been viewed by over 30 million people, making it the biggest ever opening weekend for a Netflix movie.
You can watch the full trailer for Murder Mystery below. Post continues after video.
Murder Mystery is the latest movie to come out of Sandler's eight-movie deal with Netflix, which has seen him produce some shockers, like The Do Over, Sandy Wexler and some other movies you haven't seen.
The plot follows New York detective, Nick (Sandler), and his wife, Audrey (Aniston), as they head to Europe for their 15th wedding anniversary. During the trip they're invited by a mysterious stranger (played by Luke Evans) to spend a weekend on a luxury yacht.
Then, someone turns up dead, and it's up to Nick and Audrey to figure out whodunnit before they end up framed for the crime.
Murder Mystery is also the first time in eight years long-time friends Sandler and Aniston have worked together on a rom com – their last was Just Go With It in 2011.
So, what are people saying about Murder Mystery?
Vox is calling it "a goofy but fun Agatha Christie tribute", while a review from The Guardian said it's "a surprisingly nimble summer comedy that finds both Aniston and Sandler at their most charming."