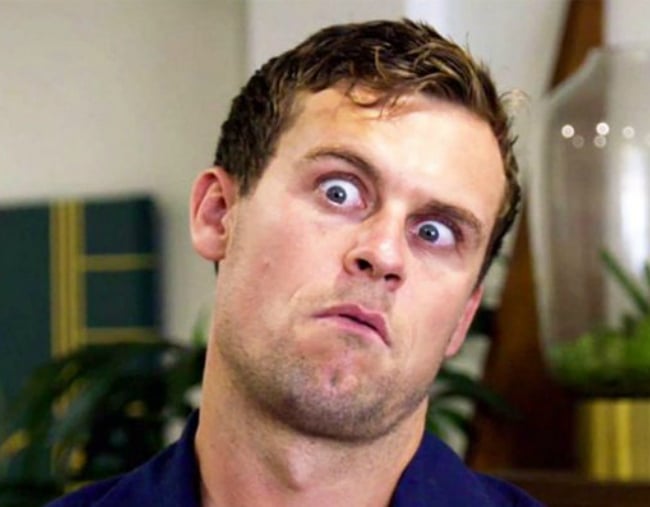 1. Married at First Sight's Ryan has slammed all his co-stars in stand up routine.
So apparently Married at First Sight's Ryan Gallagher is now a stand up comedian.
Consider his attempt at finding love on reality TV was a joke, it's not surprising, is it?
The tradie from Sydney best known for being cheated on by his former fake wife Davina performed a comedy show called 'Looking For Love' at a Sydney University student bar, and according to the journo from News.com.au who actually went, it was a doozy.
Best/worst jokes included details of fellow contestant Telv's foreskin, Nasser's sexuality and a lovely story about how he lost his virginity at 14 to a prostitute.
Oh, and he had some things to say about Davina too.
Read the full and enlightening review of Ryan's comedy show here.
2. The four very strict rules all guests at the royal wedding will need to abide by.

With a royal wedding comes etiquette, rules and traditions. And for those lucky enough to snag an invite to Prince Harry and Meghan Markle's wedding next weekend, there's quite a few to follow.
Rule #1: No budging from the seating plan. All 800 of the couple's guests will have assigned seating in the traditional manner, with the bride's family (including her co-stars and friends) on the left and the groom's family on the right.
Rule #2: Be on time. Unlike Will and Kate's 2011 wedding, which required guests to arrive two hours early, Harry and Meghan's day will be a little more relaxed. Just a little. Guests will still need to arrive an hour early.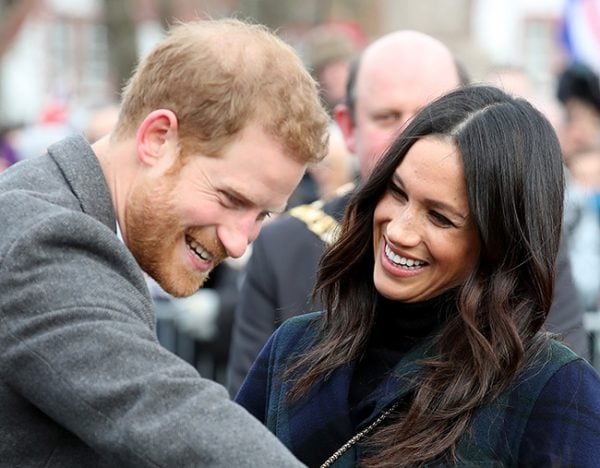 Rule #3: Bow or curtsy to the Queen. Wedding guests who are lucky enough to encounter Queen Elizabeth II will be expected to bow or curtsy and call her "Your Majesty" – but forget about approaching her. Guests are expected to wait for her to approach or address them.
Rule #4: No social media. The hardest rule of all. Former royal editor Duncan Larcome told Cosmopolitan UK: "Once the Queen is there, guests will be on their best behaviour. Things like tweeting will be an absolute no-no."
Weddings are supposed to be fun, right?!
3. "The finality nearly killed me": Lena Dunham has opened up about her break up from Jack Antonoff.
Writing for US Vogue Lena Dunham has written a heartbreaking essay, describing the moment she decided to end things with her boyfriend of five years Jack Antonoff and how she dealt with facing her fear of being alone.
"We sat in our shared kitchen of nearly four years and quietly faced each other, acknowledging what nobody wanted to say," she wrote.
"That obsessive connection had turned to blind devotion, and the blinders were coming off to reveal that we had evolved separately (the least shocking reason of all and perhaps the most common)."
Since Lena and musician Jack broke up in December, he has denied rumours he's dating Lorde, insisting the reports are "dumb hetero normative gossip" and tweeting that he's currently "not seeing anyone".
4. Olympian Lisa Curry married her fiancé on Friday, and wore a pink wedding dress.
Just this Friday, Olympian Lisa Curry and Elvis impersonator Mark Tabone tied the knot in a simple Queensland ceremony, Daily Mail reports.
The pair wed at their $1.125 million home on the Sunshine Coast, and had several guests arrive in Kombi Vans.
Curry wore a sequin wedding gown that didn't abide by tradition, stunning guests in the long-sleeved, pastel pink dress.
Guests of the wedding included our favourite Bachelor in Paradise contestants Keira Maguire and Jarrod Woodgate, along with members of her I'm A Celebrity Get Me Out Of Here family, Julia Morris and Tegan Martin.
Everyone in attendance was asked to wear white - except for the bridesmaids, who dressed in black gowns - where Curry's daughter Jaimi-Lee wore a laced floral, halter neck dress to accompany her mother down the isle.
5. Kendall Jenner's nipples won Cannes Film Festival which was... unexpected.

Cannes Film Festival is a, well, it's a film festival. A festival that gives out awards to films.
It's this fact that makes understanding how Kendall Jenner's nipples 'won' Cannes tricky.
Essentially, the 22-year-old model wore a sheer mini dress while attending the Chopard Secret Night party. You could see her nipples. It was a thing.
Later, Kendall posted a photo of said outfit on Instagram with the caption 'oops...'
Not likely, Kendall. Not bloody likely.
You can see all the fashion, red carpet and street style photos from the 2018 Cannes Film Festival here.