Excuse us if we seem a little eager to collect the mail every day from now on, because Kensington Palace has just confirmed that the official wedding invitations for Prince Harry and Meghan Markle's upcoming nuptials have been sent.
Yes, that's right, the most important people from all over the world should soon be receiving a personalised invite to watch the 36-year-old Suits actress and the 33-year-old Prince tie the knot on May 19.
Following tradition, according to Kensington Palace, the invites have been issued on behalf of Harry's father, Charles, Prince of Wales, even though it was the Queen herself who had to give formal permission for Harry to marry the American actress.
A reported 600 guests have been invited to attend the pair's service at St George's Chapel at Windsor Castle, and will then enjoy a lunchtime reception hosted by Her Majesty The Queen at St George's Hall.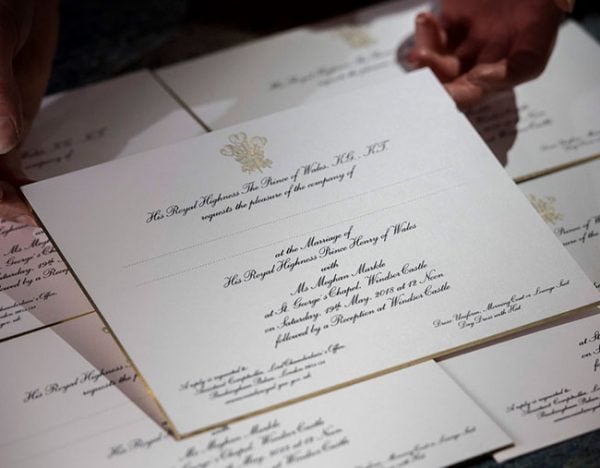 Later the same night, 200 of Harry and Meghan's nearest and dearest will enjoy a nighttime reception hosted by Prince Charles at Frogmore House.
We don't know about you, but the thought of sitting and smiling through a ceremony and no less than TWO wedding receptions is exhausting us already.
But what's more exhausting, perhaps, is the painstaking effort put into the couple's invitations, which, following royal traditional, were been designed by Barnard and Westwood.
LISTEN: Mamamia Out Loud's Jessie thinks Meghan Markle and Harry's wedding is a waste of money and she wants to tell you why. Post continues after audio.
Just one woman, Lottie Small, printed all of the invitations using a process known as die stamping. The machine used to print the invites was made in the 1930s and is affectionally nicknamed 'Maude', which seems like an appropriately royal name.
Kensington Palace also shared a video of Lottie working hard to create the invites, which feature black and gold ink, the Three-Feathered Badge of the Prince of Wales and gilded edges.
Fancy.