Just days after reports of her break-up from musician Jack Antonoff first surfaced, Lena Dunham has detailed how and why she will continue to wear a ring he gifted her during their five-and-a-half year relationship.
In a now-expired Instagram video, 31-year-old Dunham acknowledged the high-profile break-up, thanking her fans for their support and telling the story of her ring.
"I'm wearing this ring that Jack gave me and I'll always wear it," she said.
"Love is a really cool, eternal, powerful thing. It doesn't have to be defined the way we, in Western culture, define it—as beginning and ends. Things can be, 'You're a drop of water and you reenter the ocean.'
"Anyway, I really love you all and I'm really thankful for the support, really thankful for the love."
The video came on the same day Dunham posted a photo on the platform the read: "Starting over is the beautiful moment when you choose yourself."
Antonoff and Dunham met after being set up on a blind date by friends in 2012, with the musician moving in with the TV star soon after.
In October, the actress and Girls creator penned a tribute to her then-boyfriend for Variety after he was was of 50 people to be named in their New Power of New York list.
"It's safe to say that before Jack my life was full of far fewer sights. He showed me the importance of making political statements using your public platform. He showed me the joy of collaboration. He showed me the magic of his home state of New Jersey and turned the butt of my snotty New Yorker jokes into a glimmering fantasyland," she wrote at the time.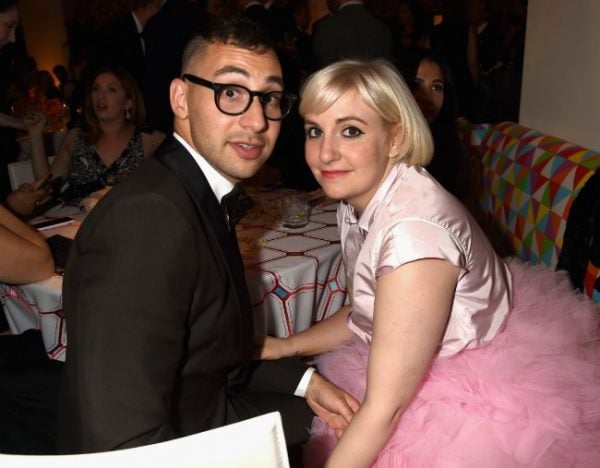 A month later, she wrote on Twitter of an exchange she had with Antonoff where she had mistakenly assumed he was about to propose.
"I thought Jack was furtively planning a proposal to me with his sister and he just admitted I actually caught him 'talking shit' about me!" she tweeted in November.
"Now I literally can't sleep cuz [sic] I'm laughing too hard and I am also keeping him awake. 5.5 years, no rock and you know what? It's real nice. Also they were huddled and I heard him say "Lena" and "finger" so obviously it seemed like an engagement ring talk."
Antonoff is yet to comment on the break-up.
Listen: The Girls episode everyone was talking about...