For everything on the Logies 2018, the Logies red carpet, your 2018 TV Logie Awards winners and all the 2018 TV Week Logies behind-the-scenes goss, visit our Logies 2018 homepage.
Let's face it, the Logies are about as cringe-y as they are glamorous, and this year was no exception.
Australia's biggest stars – and a few fly-ins from overseas – got all dressed up for a night out on the Gold Coast to recognise the best Aussie TV has to offer.
But before they could kick back and self-congratulate inside The Star, they had to navigate the red carpet, and let's just say some did it more gracefully than others.
Here are just seven of the most awkward moments on this year's Logies red carpet – you might want to read on from behind your fingers…
1. Georgie Gardner side-eyeing Karl Stefanovic on the red carpet…
It's been a big year for Georgie Gardner and Karl Stefanovic's relationship.
After a private phone conversation between Karl, 43, and his younger brother, Peter Stefanovic, was made public in March this year, well… Let's just say things have been tense between the Today co-hosts.
As reported by News.com.au, Karl accused Georgie, 48, of being bland and "sitting on the fence" during the phone call. He also said she needed to "step it up" if she wanted to keep her job.
Then some genius over at Channel Nine decided it would be a great idea to send them down the red carpet together at this year's Logies.
Karl made a joke about having to keep his behavior in check because he was going to be stuck with Georgie all night, which prompted her to shoot him one of the biggest dirty looks we've ever seen, before rolling her eyes.
She then made a pointed remark about partying all night, just to remind Karl she's not the wet mop he seems to think she is.
It was easily the best 40 seconds of reality TV we've seen in a long time.
2. Davina walked the red carpet with Dean AND Ryan.
Married At First Sight is the reality show that just keeps giving.
Just in case you'd forgotten/blocked it from your mind, here's a recap…
Davina Rankin was paired with Ryan Gallagher on the reality dating show, but then she cheated on him with Dean Wells, another contestant.
Things did not end well between the three of them, and if we're being honest, we were convinced they'd never talk to each other again… but here we are.
The trio walked the Logies red carpet together, and even made jokes about their bizarre love triangle. Sure, it's funny now.
There were plenty of laughter, but that was probably just to hide the awkwardness of the whole situation.
3. Kelly Rowland seemed a bit… confused.
If there was ever a time Kelly Rowland wished she was Beyonce, it was probably tonight.
The 37-year-old The Voice judge seemed like she didn't really know where she was or what was happening.
Who are the Americans they invite to the #Logies ? Poor them!#logies2018

— CheekyMonkey (@CheekyM0nkeyxxx) July 1, 2018
She tried her best to be enthusiastic about it all, but it just kinda fell… short.
4. Grant Denyer saying he's used to losing.
Grant Denyer was the personification of the sad face emoji on the red carpet.
The 40-year-old TV host was asked about his Gold Logie nomination, and that's when he made a few self-deprecating remarks about how he's used to losing, after having been nominated so many times in the past and always coming up empty-handed.
He seemed so sheepish, and we just wanted to reach in through the TV screen and give him a hug.
Didn't realise Grant Denyer was to the #Logies as Leo was to the Oscars. ???? And still in such high spirits too.

— Amy ???? (@amyrbkr) July 1, 2018
Chin up, Grant.
5. Married At First Sight's Carly and Troy expertly positioning themselves in the background of the TV cameras.
Clearly keen to extend their 15 minutes of fame, Married At First Sight's Carly Bowyer and Troy Delmege casually hung out in the background during a live broadcast, pretending not to even notice the cameras were switched on.
They appeared to have been looking for something or someone within a two-metre radius… Because any further than that and they would have been off-camera.
Well done Carly and Troy from #mafs for conveniently "looking for someone" right behind an interview in full view of the camera #Logies #TVWeekLogies

— Katrina (@katjhammo) July 1, 2018
Give them all the Logies.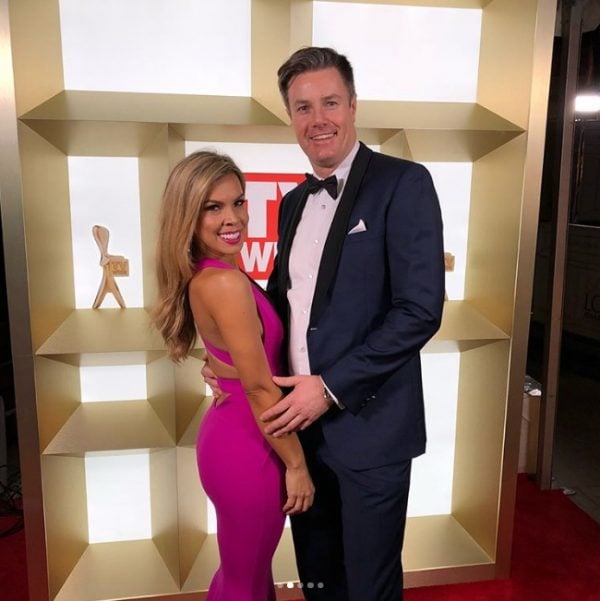 6. Jess Glynne awkwardly plugging her new album.
The 28-year-old British singer used her red carpet interview to make an "exciting announcement" - that her new album is out.
Jess stared directly at the camera, imploring fans to go and buy her album, and the nervous eye contact made us feel so awkward, we just might.
She's super talented though, so we'll give her a pass.
7. Wilmer Valderrama getting a little bit handsy with Sylvia Jeffreys after his red carpet interview.
The interview went fine, but after Sylvia Jeffreys thanked Wilmer Valderrama for taking the time to chat to her, the 38-year-old actor placed his hand on her lower waist and just left it there for what seemed like an eternity.
Okay, it was only a couple of seconds, but they were looong.
Sylvia, 32, didn't seem phased by it though, or if she was, she managed to push through it like a total pro.
Also, a handshake or a wave probably would have sufficed, Wilmer.