This year our TV screens have been happily flooded with a hell of a lot of good TV.
While most of these prime offerings have come from across the seas and can be watched in Australia via streaming platforms such as Netflix and Stan, it's also important to note that here on our own shores, Australian storytellers are also doing some pretty exciting things.
From the swell of Australian TV shows that have dropped this year, there are three offerings that stand-out from the rest.
Three Aussie TV shows that break new ground in dramatic storytelling, that embrace wickedly dark humour and that use their platforms to comment on current events and social issues.
And when you look closely at these three TV shows, you'll also discover that they all have one delightful thing in common.
They all, in different ways, feature women's stories told by women.
Whether it's through writing, direction, acting or producing, these shows are going a long way towards correcting a worrying trend 0f male dominated stories featuring prominently our screens.
The best Australian TV shows for 2018 (so far)
Safe Harbour 
Safe Harbour is a four-part drama series that broke new ground for Australian storytelling.
The story kicks off with five Australians enjoying themselves on a sailing holiday aboard a yacht to Indonesia, when they come across a fishing boat with a broken motor packed full of hungry, ill and desperate asylum seekers.
After a tense discussion between the group of friends, they decide to tow the nearly-sinking boat to the safety of Australian shores. But in the middle of the night, the boat mysteriously disappears.
Years later, the two groups meet again by chance and that's when the truth finally comes out. The boat didn't just drift away by accident, somebody cut the rope between them, and all eyes quickly turn to the group of Australian travelers.
While the entire ensemble cast in this gripping Australian drama is top-notch, it is the female leads of the series who really draw your eye.
Nicole Chamoun's Zahra, an asylum seeker who loses her daughter at sea, is a particular standout. As is Phoebe Tonkin's Olivia, a young woman whose life is dramatically altered by the events that happen out at sea and who learns that the people she loves the most were lying to her all along.
Safe Harbour a gripping, slow-burn drama that will keep you hooked until the very end.
Safe Harbour is available to watch now on SBS On Demand. 
Picnic at Hanging Rock
Picnic at Hanging Rock is Foxtel's haunting six-part series that re-imagines one of Australia's most iconic stories told through Joan Lindsay's iconic 1967 novel of the same name and Peter Weir's 1975 film adaption of her work.
The drama kicks off when a teacher and three schoolgirls from a ladies boarding school called Appleyard College mysteriously disappear in 1900, while on a Valentine's Day picnic at Hanging Rock. The events and the ensuing investigation have a far-reaching impact on the school's students, families, staff and everyone in the nearby town.
While the familiar tale is well-told here, with a few modern elements thrown into the mix, it's the young cast of female leads that really elevate the story.
Lily Sullivan's Miranda is a much more compelling and layered character than the one we first met in the book. Her story arc of a being a country-loving tomboy who is sent to boarding school by her family in the hope that it will turn her into a lady who will marry up is one of the most memorable from the series. Her feminist character talks of wanting to return home and run her parent's farm instead of trying to worm her way into society on the arm of a man.
There's even a scene where she plunges a pitchfork through a man's foot to stop him sexually assaulting her in a barn.
The more you see of Miranda and other young actresses in the series, the more you believe that this could have been a strong drama even without the mysterious Hanging Rock element and the disappearance.
Behind the scenes, women were also at the forefront of the production. The script for Picnic at Hanging Rock was co-written by Beatrix Christian and Alice Addison while directors for the series included Larysa Kondracki and Amanda Brotchie.
Picnic At Hanging Rock is available to Foxtel customers On Demand and and can be streamed on Foxtel Now.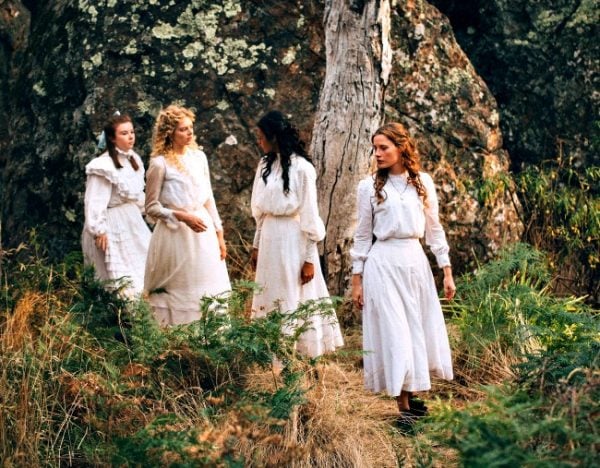 Homecoming Queens
Homecoming Queens is an SBS On Demad series that sprang from the real-life experiences of writers and friends Michelle Law and Chloë Reeson, two people who bonded over their shared experiences of navigating the ins and outs of adulthood while also both managing life-changing illnesses.
As the first ever commissioned SBS On Demand series, Homecoming Queens impressively packs a whole lot of storytelling into seven episodes.
The story kicks off when Michelle (writer Michelle Law playing a fictionalized version of herself) lands on the doorstep of her high school best friend Chloë Easton, played by actress Liv Hewson (best known for her roles in Santa Clarita Diet and Top of the Lake) who is recovering from breast cancer and is now determined to make up for lost time by crossing off items on her reverse bucket list.
Aside from being wildly entertaining and darkly funny, Homecoming Queens was also created by a talented group of Australian filmmakers, writers and story-tellers.
Law and Reeson's script and humour is extraordinary and the whole project comes together beautifully under director and executive producer Corrie Chen, an award‐winning filmmaker
whose diverse body of work has screened extensively at academy‐accredited film festivals around the world.
Every episode of Homecoming Queens is available to watch now on SBS On Demand.
What are the Australian TV shows you just can't get enough of? 
For more film and TV reviews, you can follow Mamamia Entertainment Editor Laura Brodnik on Facebook.