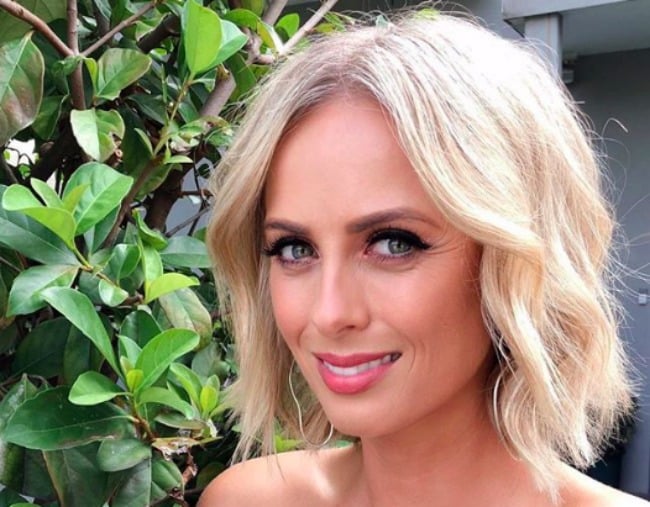 Unlike most Logies guests, Sylvia Jeffreys has an unfortunate wake-up call on the morning after TV's night of nights.
The TV host has to be up at 3am the morning after to prepare for her 6am start on the Today show.
And it's not an easy feat, especially when after-parties are involved – nobody's about to forget 2009, when Today co-host Karl Stefanovic appeared drunk on the show's post-Logies broadcast.
In an interview with TV Week, 32-year-old Sylvia has shared how she handles going virtually straight from the Logies to work.

"At my bedside, there's just a big glass of water, a Berocca, in case of emergencies, and my alarm set for 3:20am," Sylvia explained.
"In lieu of sleep, a good face mask and a heavy-duty eye cream helps to get rid of puffiness and bags under the eyes."
From there, Sylvia typically spends a large chunk of her morning in hair and makeup, where she uses the time to read the news and prepare for the show.
On Today, Sylvia generally goes with the same natural makeup look, so the Logies is her opportunity to really "go large".
"There's an extra inch of lash, and a smokier eye. The hair gets bigger and a little looser," she explained.
Today host Sylvia Jeffreys Logies dress drew some unfortunate anatomical comparisons with her Logies dress last year.
Sylvia's prep for the Logies, which kicks off at 7pm, usually begins at around midday – just a few hours after she's finished filming Today.
To keep her makeup looking fresh for so many hours, Sylvia sticks with a primer and long-wear makeup products – but you won't find makeup for touchups in her clutch.
"You'll probably find only my hotel pass, and my phone to take selfies with the celebrities who I've watched on television since I was a child," she said.
The Logie Awards, which are usually held in Melbourne, are being held on the Gold Coast this year.
The formal awards ceremony will be telecast at 7:30pm.