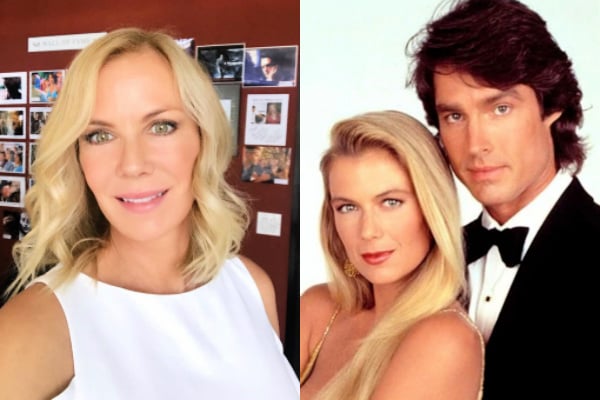 What I Put On My Face is Mamamia's celebrity beauty series that takes you inside the beauty cabinets of influential women. From what skincare products they use to their go-to makeup tips, it's a pervy look at exactly what they put on their face. And body. And hair. You get the idea.
This week, we spoke to Katherine Kelly Lang. Many of us grew up watching Katherine on the telly as Brooke Logan in the iconic soap TV series The Bold and The Beautiful. Aside from working on the show full-time for more than 30 years, she's also a fashion designer and an athlete who's competed in IronWoman and long-distance horse riding competitions.
The actress gave us a behind-the-scenes look at what it's really like getting your hair and makeup done multiple times a day, every day, for work. She also shared the skincare, makeup and hair and body care products she uses on herself when she's not playing a character.
Before we get into it, here's exactly how to do a bronze smoky eye look at home in the video below. Post continues after video.
Katherine's skincare routine.
My skin has definitely changed over the years. My main concern is sun damage from a life spent in the sun – I'm always outdoors and training for something. I do IronMan races, and before that, it was long-distance horse riding and surfing. So I've had to start taking the time to concentrate on my skin and taking care of it and being vigilant to get rid of sun damage on my face. I don't want to give up the things I love, so I do crazy things like running wearing a huge, broad-brimmed hat.
I do a lot for my face. I do micro-needling. I do the Vampire Facials where they put your platelet-rich plasma on your face. I go to a doctor's office to have treatments done, sometimes, I end up red and scaly for a few days, but it really does wonders. I do red light therapy all the time, too. I have a couple of tools and machines to do that at home, like the face masks with the LED lights in them.
I change up my creams all the time because I feel like my skin gets used to things and the products won't work as well. I mix and match and I also like trying different natural products. I go with how my skin is feeling. Sometimes, I get quite oily. Sometimes, my skin is really dry because I'm travelling a lot so I'll use a bunch of different sheet masks.