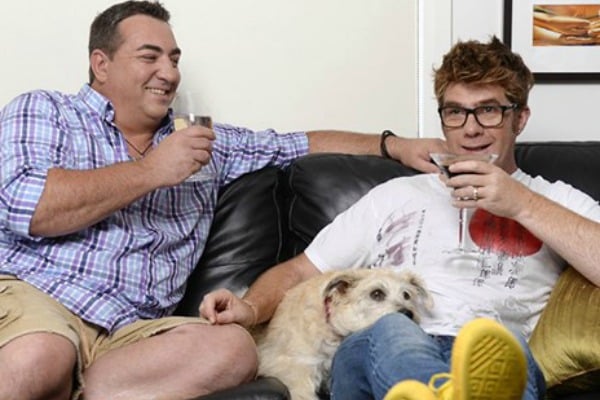 There's one thing above everything else that Wayne Mott and Tom Walsh want the new crop of Googlebox hopefuls to remember: "The Australian public can smell bulls**t a mile away, so just be yourself."
The couple were on the popular reality TV show for three years, starting in season one in 2015 before deciding to pack it in last year.
Now Gogglebox is on the hunt for some new families to join the show, but before you sign up Wayne and Tom have some things to share about what it's really like to invite a film crew into your home.
Wayne and Tom on same-sex marriage on Gogglebox. Post continues after video.
"We had no idea what the commitment was going to be and it is a commitment – they own you for 5 days a week. So for the weeks you are filming you can't make plans. Our friends got so sick of it they just learnt not to invite us anywhere," Tom told Mamamia.
"It's funny how it can impact your life. Birthday parties, events… a lot of social stuff goes by the wayside," added Wayne.
The couple said they ended up doing 50-60 hour weeks (if you add filming on to work hours), and for Tom and Wayne, they did think of filming as work. It was important to keep that boundary and not become too friendly with producers and crew.
"Both of us had full-time jobs and then we'd race in at 5pm have a quick shower, get changed and be on the lounge filming until 9-10 pm. It turned into a really long day," explained Wayne.
It also meant they were often pulling seven day weeks, because most filming ended up happening over the weekend. (They'd always have Wednesday – Sunday blocked for filming and producers would give them a heads up on which 2-3 days they were needed the week before.)