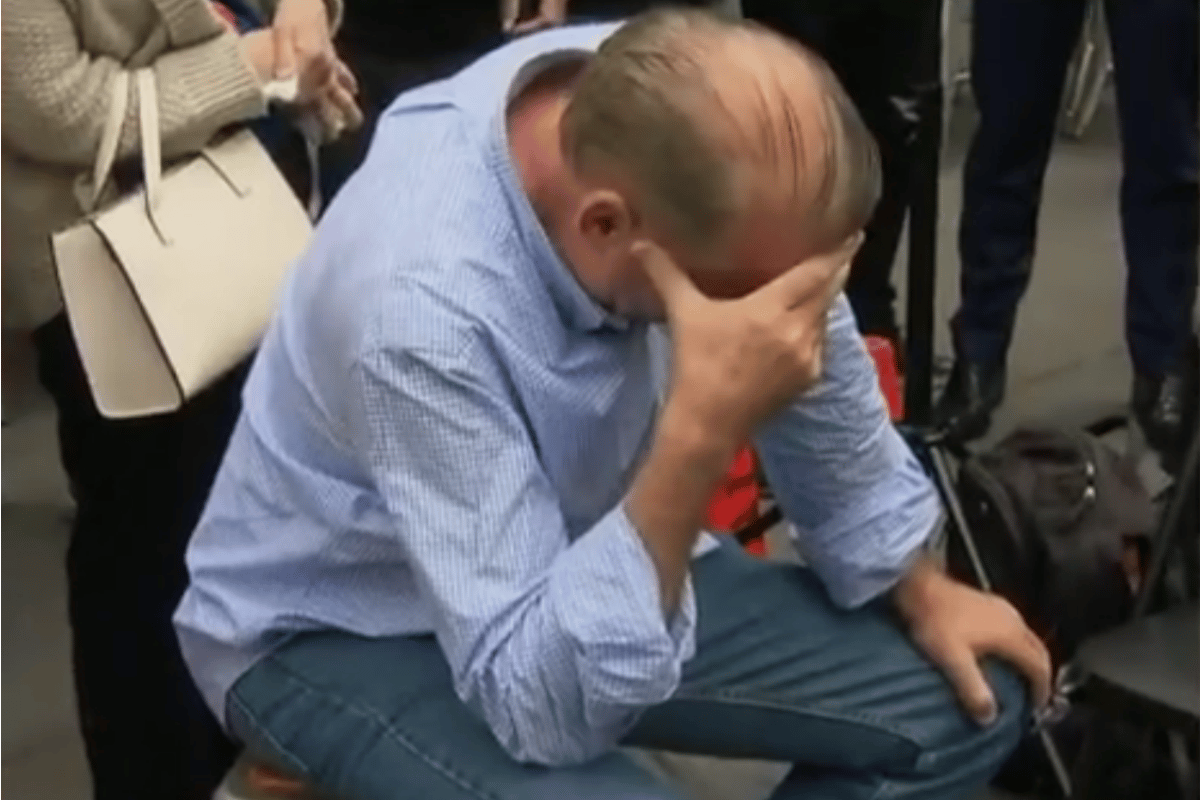 -With AAP.
Abuse survivors gathered at Melbourne's County Court this morning for the sentencing of disgraced Cardinal George Pell for abusing two teenage boys in 1996.
Among them was Michael Advocate, a man in a blue shirt who listened to the judge's hour-long remarks with his head in his hands.
Chief Judge Peter Kidd sentenced Pell to six years in prison with a non-parole period of three years and eight months, three months after he was found guilty of orally raping a 13-year-old choirboy and molesting another at St Patrick's Cathedral after a Sunday mass.
Listen to Mia Freedman, Holly Wainwright & Jessie Stephens unpack the Pell verdict on Mamamia Out Loud… Post continues after audio. 
Advocate, a survivor of child sexual abuse and founder of Victim Group Actions, described the sentence as "pathetic".
"[I'm] really disappointed," he told 7 News from outside the court.
"It doesn't send any deterrent at all. It doesn't give the victims any sense of justice. You know, less than four years jail time for destroying the lives of two innocent young boys. Is their life only worth two years each?"
"May Pell rot in his cell… But what about appropriate respect for the victims? What about fair justice? … Six years? It's pathetic."
"It's pathetic": Abuse survivor Michael Advocate responds to the #pellsentence#cardinalpell #AusNews pic.twitter.com/7K4K6IPHcu

— 7News Yahoo7 (@Y7News) March 13, 2019
Advocate told Studio 10 that every victim got a life time sentence, and he thought Pell's jail term did not appropriately match his crime.
"I'm a typical victim. I've got 41 years to date," he said.
"My life is just a disaster, every other victim I speak to is a disaster. How much do we have to suffer? How insulted do we have to be before real justice occurs?"
"Every paedophile should get an appropriate jail term reflective of the life time of damage that they cause to their poor, innocent victims. It's got nothing to do with what Pell has done in his life before or after. He is guilty. He is a monster. He is a criminal paedophile."
"How insulted do we have to be before real justice occurs?"

Founder of Victim Group Actions, Michael Advocate, slams Cardinal George Pell's sentence. @hughriminton @10NewsFirst pic.twitter.com/MPTnCKUe3O

— Studio 10 (@Studio10au) March 13, 2019