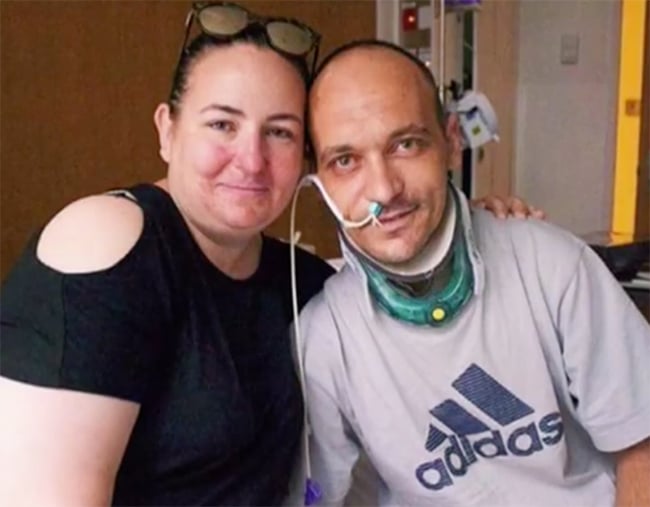 1. "Now I believe in miracles": One-punch victim, a Melbourne father-of-three, wakes up two days after life support is turned off.

A Melbourne father-of-three has woken up two days after his life support was switched off and is making a happy, unexpected recovery after having his skull crushed in a random one-punch attack in November last year.
Beau Shortis, 35, was celebrating his best friend's engagement party on November 25, News Corp reports, when a stranger 'coward punched' him on the street. He landed hard on the concrete below, his skull shattering on impact.
For 26 days, Beau was in a coma in the intensive care unit at The Alfred hospital. Seeing no sign of improvement, doctors told Beau's family there was no chance of recovery. They made the heartbreaking decision to turn off his life support.
"We had made peace without that choice, we knew what he would've wanted, what his children wanted," his sister, Donna Griffiths told Nine News.
"Mum and I were actually planning his funeral because we had no hope."
WATCH: Beau's home with his family after miraculous recovery, from Nine News.
The homicide squad swooped in and Donna issued a warning to the public: "One punch can kill".
But, two days after his life support was turned off, Beau woke up. The first thing he did? Burst into tears.
"I broke down I think, broke down crying," he told Nine News in an interview aired last night.
"I didn't know what was going on, I thought it was all a big joke then realised I was lying in a hospital bed."
Now, eight weeks after waking from his four-week-long coma, Beau is home and making a miraculous recovery.
With brain damage, fractured vertebrae, partial blindless and amnesia, doctors didn't expect the father-of-three to be walking within six months.
But, against all odds, he's home with his family, retraining his brain and attending rehab, Nine News reports.
It was the thought of his children that pulled him through.
"I was thinking of my kids. That is something I wouldn't want to wish upon anyone, to lose their father, especially at such a young age," he said.
The man allegedly responsible for Beau's injuries, 27-year-old Matthew Defreitas, is due to appear in Frankston Magistrate's Court on April 5 charged with behaving recklessly causing injury. Another man is also under investigation.
2. UK mum's warning to parents after doctors misdiagnosed her dying daughter's meningococcal as 'bruises'.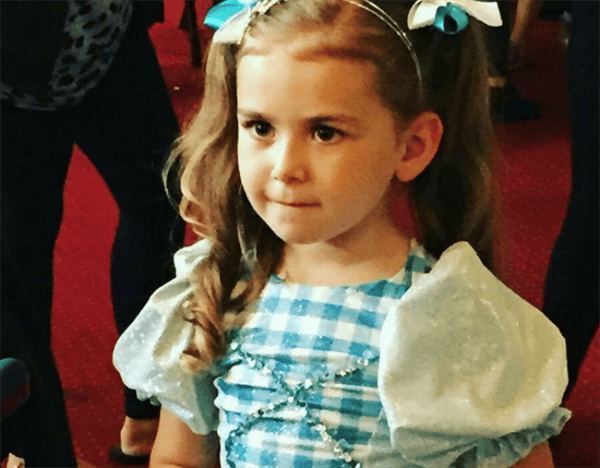 A mother in the UK is warning parents to vaccinate their children against meningococcal and seek treatment early after her dying daughter's meningitis was misdiagnosed as 'bruises'.
Kirsty Ermenekli, 32, from Oldham in England, said she took her six-year-old daughter Layla-Rose to hospital with a high temperature, headache and a stomach ache on February 4 last year.
Although doctors saw a red mark on the girl's hip that Kirsty said "appeared out of nowhere", she said they told her it was likely a bruise and to take Layla-Rose home.
"She was a typical girl. She loved dancing and she loved dressing up," Kirsty told The Sun.
Eight hours later, still in hospital - having been moved to a high dependency unit - Layla-Rose went into cardiac arrest and died from meningococcal meningitis and septicaemia.
Now, an inquest has ruled Layla-Rose's death "could have been avoided if action had been taken in the early stages of her arrival" and that there was "clear noncompliance with procedure" from hospital staff.
Speaking to The Sun, Kirsty said: "Doctors are wonderful – but a mother's instinct is invaluable. I knew something was wrong with my daughter but nobody listened.
"If she had been treated sooner, perhaps she would still have been here today."
The mother-of-four, alongside her husband Ricky, 32, is urging all parents to vaccinate their children against the aggressive, deadly disease.
Kirsty's warning comes after the death of an Australian baby to meningococcal this weekend.

Kirsty's warning comes at the same time the parents of a six-month-old baby killed by the meningococcal B-strain in South Australia are telling their story.
They said the disease took their son's life in just two hours because they couldn't afford the $350 vaccination.
Jordan Braddock was smiling and drinking his bottle when his parents put him to bed on Saturday night, Seven News reports. But, upon waking him in the morning, they found their son listless and quiet.
The local GP in Mount Gambier urged the pair to rush little Jordan to the emergency room.
Soon, a rash was spreading across Jordan's body and doctors began preparing to airlift him to hospital in Adelaide.
Two hours after the rash appeared, and minutes before the flight was due to take off, Jordan stopped breathing and could not be revived.
Speaking to Seven News Jordan's parents said they couldn't afford the vaccine against the disease's B strain and are calling for the government to make it available to all parents free-of-charge.
To donate money for Jordan's funeral costs, click here.
For more information on vaccinating babies and young children against meningococcal in Australia, click here.
3."Pray for us." High school students are injured after yet another school shooting in the US.
Here's a look from the scene outside Great Mills High School in Great Mills, Maryland, which is currently on lockdown after a shooting at the school, St. Mary's County Public Schools says https://t.co/O0tm9C2l8X pic.twitter.com/2dJ05pghF6

— CNN (@CNN) March 20, 2018
A student has shot and critically wounded two fellow students at a high school in the US state of Maryland before a campus security officer ended the attack by wounding the shooter, a law enforcement official says, AAP reports.
The shooter shot a male student and a female student at Great Mills High School in St Mary's County, and was then wounded by a campus security officer, county Sheriff Timothy Cameron told MSNBC.
Reuters reports the shooter later died in hospital, while his two victims remain in a critical condition.
The reason for the shooting was unclear, Cameron said, adding, "We don't know the relationship; we don't know the motivation."
The shooting took place at Great Mills High School in St Mary's County, about 110km south of Washington.
It comes amid a re-energised national debate over school shootings in the US following an attack on February 14 at Marjory Stoneman Douglas High School in Parkland, Florida, where a gunman killed 17 students and faculty.
"I'm still a little shaken up," said Great Mills' student Jonathan Freese in a telephone interview with CNN. He said he'd been on lockdown with classmates for nearly an hour, and that the school had practised active shooter drills in the past.
"I didn't really expect for this to happen. I do always feel safe, though, because they always have police at the school."
A Twitter user who claimed to be a student at the school also shared posts during the shooting.
Hi Twitter. I am in Great Mills HS. My school is on a very real lockdown threat and there's already someone possibly dead. Please pray for us.

— Mollie Davis (@davism0llie) March 20, 2018
You never think it'll be your school and then it is. Great Mills is a wonderful school and somewhere I am proud to go. Why us?

— Mollie Davis (@davism0llie) March 20, 2018
Maryland Governor Larry Hogan said he was monitoring events at the school.
"Our prayers are with students, school personnel, and first responders," he said in a statement.
4. Prince Harry and Meghan Markle are bucking royal tradition with their unusual choice of wedding cake.
Britain's Prince Harry and his fiancée Meghan Markle have chosen a trendy east London bakery to make a lemon elderflower cake for their wedding in May, Kensington Palace has confirmed.
Harry and US actress Markle will be married at his grandmother Queen Elizabeth's Windsor Castle home and picked Claire Ptak, who runs Violet Bakery, to bake the cake.
"It will be covered with buttercream and decorated with fresh flowers," the Palace said in a statement on Tuesday.
"They are very much looking forward to sharing this cake with their wedding guests on May 19th."
The flavour is a far cry from the traditional fruitcake that has been served at royal weddings in the past.
Ptak is originally from California and set up Violet Bakery in London in 2010.
"I can't tell you how delighted I am to be chosen to make Prince Harry and Ms Markle's wedding cake," Ptak said in a statement.
Markle had previously interviewed Ptak for her former food and lifestyle website The Tig, which she ran for three years before it closed last year as public interest in her relationship with Harry grew.
5. A Perth woman has won a legal battle allowing her to use her dead partner's extracted sperm to fall pregnant.
A 42-year-old Perth woman has won the right to take sperm extracted from her dead partner to the ACT where she hopes to become pregnant, AAP reports.
The woman had been in a relationship with the 53-year-old man for six years in 2016 when he suffered a sudden heart attack, never regained consciousness and was taken off life support after being declared brain dead.
The WA Supreme Court heard they planned to eventually marry and have children but had limited financial means and housing struggles, so decided to wait until they had their own home.
He'd proposed and given her pewter baby trinkets for their first child along with a copy of the classic children's book The Wind in the Willows.
He'd even suggested freezing his sperm because his father and uncle had died at relatively young ages, and he had a fear of dying young, too.
Shortly after his death, she arranged for his sperm to be extracted and stored, which is allowed under WA legislation.
However, knowingly using or authorising the use of gametes, which include sperm and eggs, in an artificial fertilisation procedure after the death of the gamete provider is prohibited in WA but it is allowed in the ACT.
Chief Justice Wayne Martin has now ruled the woman has the right to direct the clinic to transfer the sperm and does not need the approval of the Reproductive Technology Council of WA to make those directions.
In his judgment, Chief Justice Martin said it was tragic the couple were just about to overcome their housing difficulties when the man died.
The woman's purchase of a two-bedroom unit was settled later that month.
6. Sudan, the world's last male northern white rhinoceros, has died.
Researchers say the world's last male northern white rhinoceros, Sudan, has died after "age-related complications".
A statement from the Ol Pejeta Conservancy in Kenya says the 45-year-old rhino was euthanised on Monday after his condition "worsened significantly" and he was no longer able to stand.
The rhino had been part of an ambitious effort to save the subspecies from extinction with the help of the two surviving females, Najin and Fatu.
"He was a great ambassador for his species and will be remembered for the work he did to raise awareness globally of the plight facing not only rhinos, but also the many thousands of other species facing extinction as a result of unsustainable human activity," said the conservancy's CEO, Richard Vigne.
A representative for Ol Pejeta, Elodie Sampere, said Sudan was a "gentle giant".
"His personality was just amazing and given his size, a lot of people were afraid of him. But there was nothing mean about him," Elodie Sampere said.
Sudan was something of a celebrity, attracting thousands of visitors. Last year, he made headlines when dating app Tinder named him the "most eligible bachelor in the world" as part of a campaign to raise funds to save the subspecies.