The seating arrangements have been made. The venue is booked. The cake is well on its way to being made.
The bonbonnières have been ordered (personally, we're hoping each and every guests gets to take home a Corgi pup) and as of today, the invites have officially been printed and sent.
But royal watchers have spotted something a little off about the invitations for Prince Harry and Meghan Markle's May 19 wedding. Something that, potentially, could cause some confusion among guests.
It all started when Kensington Palace shared an image of the invitations on Twitter. The Prince of Wales' special fancy seal (also known as the Three-Feathered Badge) was there. There was enough space for a fancy calligrapher to write the names of guests.
There was even a very specific dress code – men must wear a "morning coat" or a lounge suit, while women are required to wear a "day dress with a hat".
But the names of the people getting married were… not what people were expecting.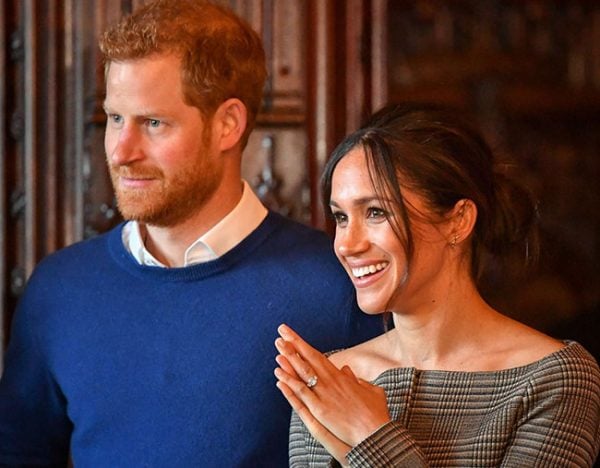 Prince Harry was referred to as "His Royal Highness Prince Henry of Wales" which is understandable considering his full name - His Royal Highness Prince Henry Charles Albert David - was likely to take up most of the invitation.
But it's the name of Harry's soon-to-be-wife that caught people's attention.
On the invitation, she is referred to as 'Ms Meghan Markle', despite most of the official correspondence about the royal wedding referring to her by her full name, Rachel Meghan Markle.
Why isn't her full name on the invitation, Rachel Megan Markel??

— Victoria Howell (@VHowell1101) March 22, 2018
Um her name is Rachel Megan Markel wouldn't these all be typos?

— Crystal Alexandria (@CRYSTALADEMARCO) March 22, 2018
Thought they would use " Rachel".

— Brenda Benjamin (@brenbrenchie) March 22, 2018
Despite some suggesting that the shortening of Meghan and Harry's names was a way for the royal family to save money on the invitations (with a wedding taking place at Windsor Castle and with two separate receptions, we don't think that's an issue), there may be a much simpler explanation for the more colloquial uses of their names.
Perhaps this may be Prince Harry and Meghan's way of putting their own, less traditional spin on the big day. After all, they've already confirmed they are ditching the traditional royal wedding fruitcake in favour of a more 'modern' flavour combo, and Meghan is expected to be walked down the aisle by her mother instead of her dad.
LISTEN: Mamamia Out Loud's Jessie thinks Meghan Markle and Harry's wedding is a waste of money and she wants to tell you why. Post continues after audio.
While it's certainly no "Come round to Lizzie's and enjoy a barbie to celebrate the wedding of Hazza and Megs", it's as casual as they could probably get.
But there's something else that's catching people's eyes when it comes to Meghan's name on the invitations, and it's a detail that sets her wedding invites apart from her soon-to-be sister-in-law Kate Middleton.
As in other official correspondence, she is referred to as a 'Ms' instead of a 'Miss'. According to Town and Country Magazine, Meghan is unable to be called a 'Miss' on the invite as she has already been married once before.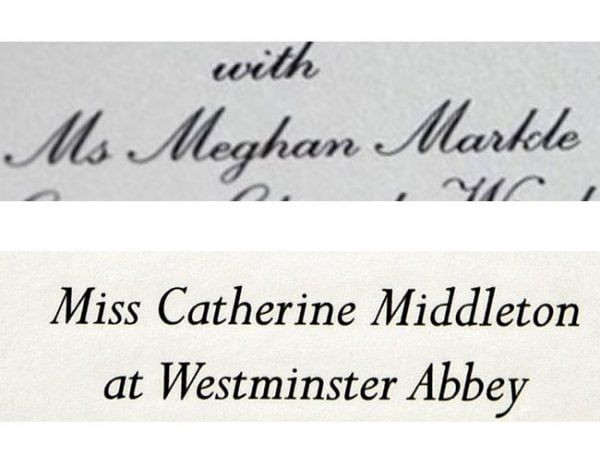 "For a first marriage, the bride would traditionally be addressed on the invitation as 'Miss'... In the case of a second marriage, this would be replaced by 'Mrs' or 'Ms'," Ruth Baxter, the bespoke stationery manager for British brand Smythson, that makes stationery for the the Queen and Prince Philip, told the magazine.
Meghan was previously married to producer Trevor Engelson in 2011, but the pair split a year later citing "irreconcilable differences".