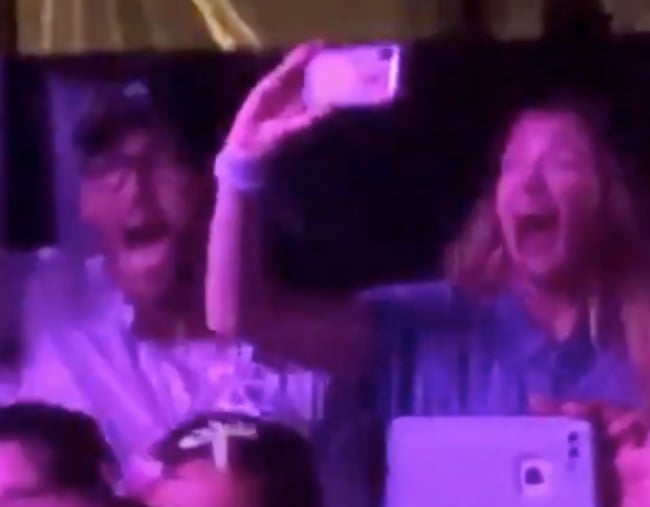 Blake Lively and Ryan Reynolds were very proud parents on Saturday night.
The couple attended Taylor Swift's Massachusetts concert over the weekend – but they weren't just there to see their close friend perform 'Shake It Off' live.
Their three-year-old daughter James actually made a cameo at Taylor's concert and from the look of the proud parents' faces, they couldn't contain their excitement.
Last year, Blake and Ryan's first child James recorded a voice over for the introduction of Taylor's song 'Gorgeous', in which she adorably says the song title.
When Taylor began to introduce the song, 30-year-old actress Blake pulled out her phone to capture James' voice over being played to the sold-out Gillette Stadium.
RYAN REYNOLDS AND BLAKE LIVELY REACTION'S WHEN THEY HEAR THEIR DAUGHTER'S VOICE AT THE START OF GORGEOUS AT THE CONCERT OF TAYLOR SWIFT IS THE CUTEST THING pic.twitter.com/nTl4pDaOUK

— daddy stark (@woIvern) July 29, 2018
In the video which has since gained thousands of views on Twitter, Ryan and his wife Blake jump up and down with excitement alongside friend, 23-year-old model Gigi Hadid as the intro plays.
Eagle-eyed fans even captured videos of Gigi, Blake and Ryan singing and dancing along to Taylor's music at the concert in the VIP section.
okay now i'm really dying!! Gigi Hadid, Blake Lively and Ryan Reynolds having the time of their lives pic.twitter.com/FwNxYVvZIX

— Michelle – Taylor Swift is my bff (@MichmeetTaylor) July 29, 2018
After Taylor's album Reputation was released in late 2017,  fans debated over who the "'Gorgeous' Baby" voice over was.
Although many believed the voice belonged to North West or even Taylor's own godson, James Reynolds name was later credited in the album's production credits.
Deadpool actor Reynolds spoke to Good Morning America about James' musical debut back in May.
"My daughter has a really, really terrible ego problem now after that song," the 41-year-old joked. "Oh, she's insufferable."
Blake and Ryan married in September 2012 and have two children, three-year-old daughter James and one-year-old daughter Inez.