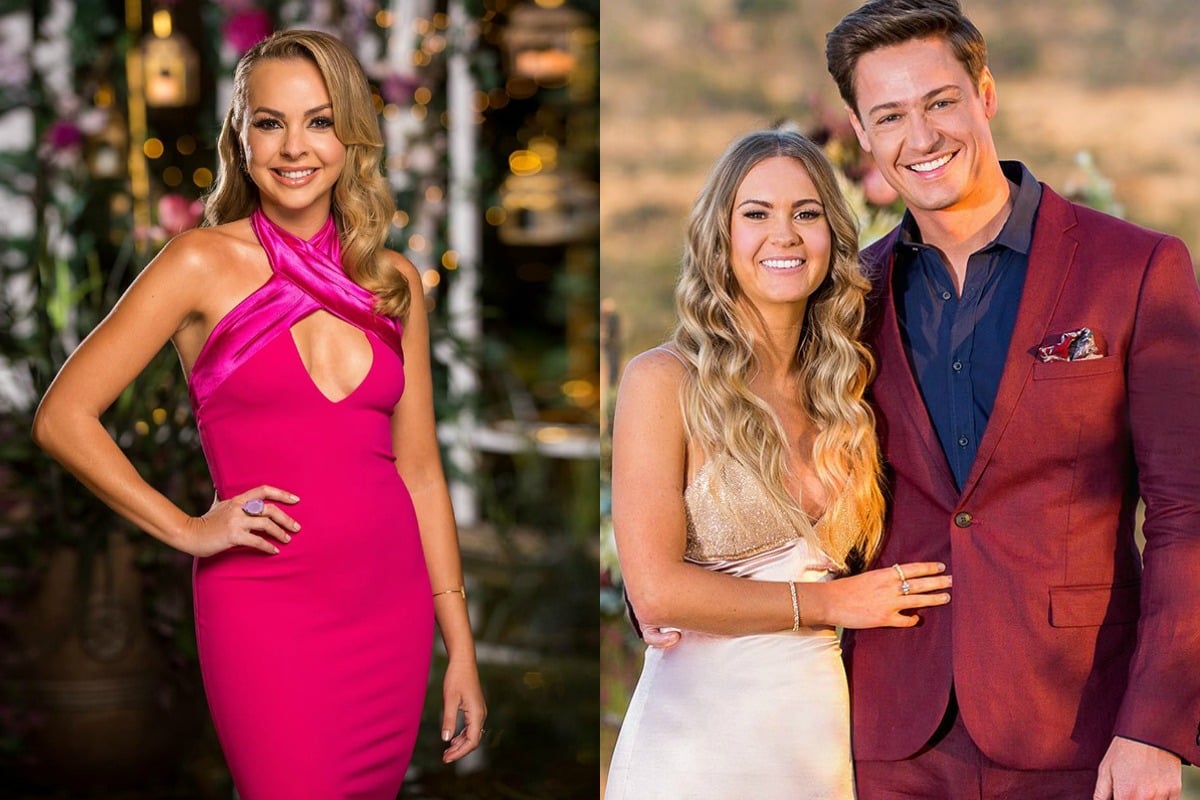 1. The Bachelorette's Angie Kent just weighed in on Matt and Chelsie's breakup.
Ever since The Bachelor's Matt Agnew and Chelsie McLeod announced their split, we've all been wondering why their relationship failed to 'translate from filming to the real, everyday world'.
But fellow Bachie star Angie Kent says she understands.
During Angie and Carlin's appearance on Have You Been Paying Attention? on Monday night, Angie explained that she empathises with the struggles the Bachelor couple may have faced.
"Once you get out of the Bachie bubble, it's up to you then to kind of create a connection and see how it goes," Angie said.
"It's hardcore," she added.
Earlier this year, Angie told Mia Freedman on Mamamia's No Filter podcast that it's challenging to navigate a relationship when the show finishes.
"You're dating in front of a cameraman and producers and all that, but it does become real because that's all you know because you're in the Bachie bubble," Angie said.
"So then once you're out, that's when it starts. But still not really because it's once the show is done that you have a normal-ish relationship. So it's kind of navigating when you're filming, when you're together but not together, and then starting your relationship properly once it's all done."
The Spill is Mamamia's daily entertainment podcast that catches you up on everything in entertainment and pop culture. It's snackable and perfect for your commute home. Post continues after podcast. 
2. Jennifer Lopez was named one of GQ's Men of the Year – these are the details you need to know from her interview.
She's a best-selling singer, incredible actress, and has been nominated for two Grammys and a Golden Globe, but now Jennifer Lopez has another achievement she can add to her list – she's just been named one of GQ's Men of the Year.
Yep, you read that right, J.Lo has been awarded the male-centric title, alongside Robert De Niro, Al Pacino, and Tyler, The Creator.
As well as featuring on the cover, Lopez sat down with the magazine for a candid interview where she shared details about her relationship with fiancé Alex Rodriguez and her movie Hustlers.
The mother-of-two said despite having different careers, she and Alex make each other better people.
"We're both super-hard workers. We're driven by our passions. And we have a tremendous amount of respect for each other.
"We're really alike in our drive, in our ambition. He's an athlete. He wanted to be the best. I'm the same way. I just want to be great at what I do. We're both like that," she said.