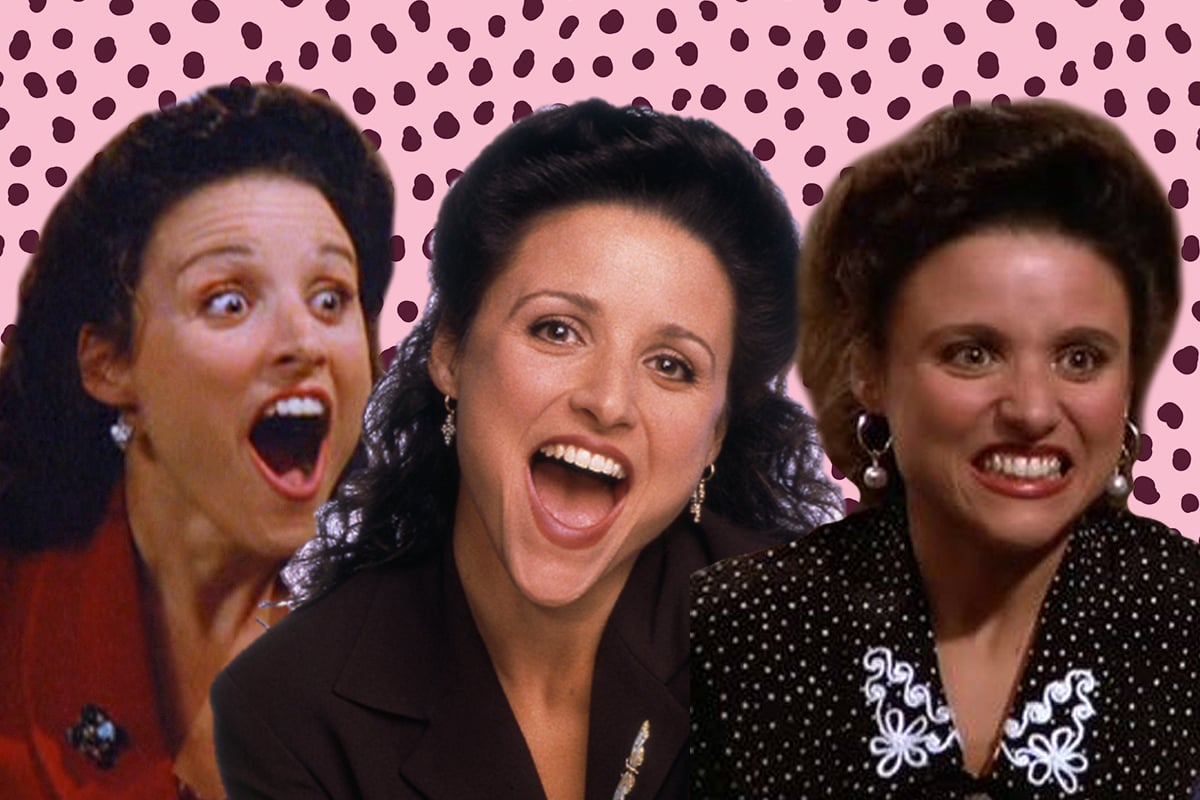 Last week marked 30 years since Seinfeld's very first episode 'The Seinfeld Chronicles' aired. The pilot featured everything we would come to love about 'the show about nothing', except for one very important missing piece: Elaine.
Elaine Benes, played by the brilliant Julia Louis-Dreyfus, was added after the pilot episode was shot as NBC executives felt the show was too male-centric and needed a woman as part of the main cast.
This was 1989, and female characters like Elaine – flawed, loud, apologetically sex positive and progressive – were not on TV. She was all of these and more, you know, like a fully rounded human being should be.
Sidenote: Here are some sexist ways your favourite female characters were introduced in screenplays. Insert eyeroll here. Post continues below video.
These days women like Elaine are in so many of the shows we watch, but Elaine is the OG, so to celebrate 30 years of her we've taken a look back at some of her best moments.
'Difficult': The Package, season 8, episode 5.

When women know what we want – when we're assertive and confident and not willing to take any sh*t – others love to label us as difficult.
During a visit to the doctor, Elaine finds that her medical file says she's a 'difficult' patient and Elaine is not here for it.
She confronts her doctor, naturally telling him it was absolutely not her fault she was 'difficult'. The doctor says he'll erase it from her file… but as Elaine points out, it was written in pen.
"You fake erased," she says while looking him dead in the eye.
Birth control: The Virgin, season 4, episode 10 and The Sponge, season 7, episode 9.
Elaine was open about contraception more than once over the course of Seinfeld – a topic that, in the 90s, was not exactly considered dinner party chat.
In The Virgin, Elaine tells Jerry and his new girlfriend a story about her diaphragm flying out of her bag while talking to a man.
"So I carry around my diaphragm – who doesn't? You never know when you're going to need it."
In The Sponge, Elaine hoards contraceptive sponges which have become very valuable after being discontinued and well, she's very selective over when she uses one, going so far as to coin the phrase "sponge-worthy".