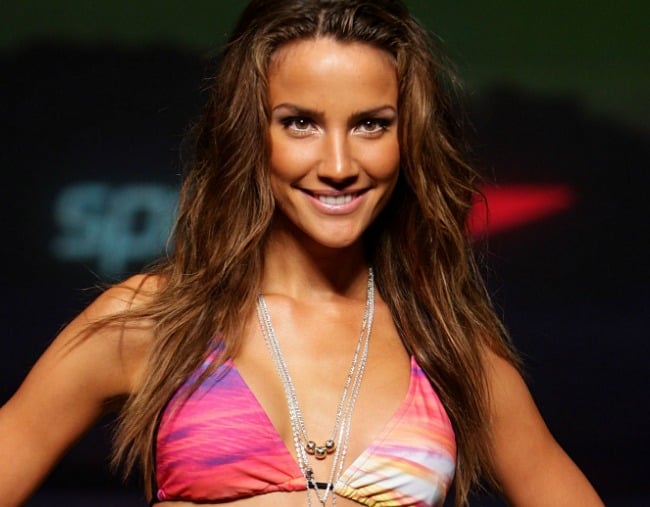 1. Rachael Finch says there was a troubling story behind the photos of her at her thinnest.

Rachael Finch has opened up about her past battles with body image.
On Instagram, the model explained that she used to have really unhealthy and dangerous eating habits.
"In 2008, I started to lose my periods," she said in the Instagram video.
"I didn't have a period for two years. At the time I was working as a model, and I was incredibly light in terms of my weight."
The 30-year-old said she was malnourished and wasn't feeding her body the nutrients it needed.
"I lived off skinny lattes, diet soft drinks and low-fat foods," she said.
"I thought that was healthy, and I felt like I had to maintain that weight in order to continue to get work. I was so obsessed with counting calories all the time. It was a wrong way to look at things. It was a vicious cycle that ultimately cost me the health of my body.
"I was drinking half a bottle of diet soft drink a day. After I stopped drinking it, I got a lot of headaches. I felt worse before I got better, and that made it really hard to push through."
The influencer said she's now the happiest and healthiest she's ever been.
2. People are very, very angry about the shoes Kanye West wore to a friend's wedding.
Oh, Kanye…
The internet is not okay after Kanye West wore Yeezy slides WAY too small for him to the wedding of friend and fellow rapper 2Chainz.
His shoes even distracted from his wife's outfit, which is hard to do on a normal day but even more so when she's wearing a neon green, skin tight dress.
Fans have called the rapper out for his 'disrespectful' choice of footwear, with others speculating he accidentally grabbed North's pair on the way out, needed them as an ingrown toenail aid or spilled something on his other shoes and had no other option.
But one Twitter user said it best:
first of all kanye YEEZYS ARE YOUR SHOES IT SHOULD BE NO REASON WHY YOU AINT GET THE SIZE THAT FITS YOU ???? @kanyewest https://t.co/GKYrf5DFiz

— IG: Tgotthejuice ✨ (@IGtgotthejuice) August 19, 2018
3. Nicki Minaj is throwing a Twitter tantrum directed at Kylie Jenner AND her six-month-old baby Stormi. 
Nicki Minaj has missed out on the number one spot on Billboard this week, and no, she isn't taking it well.
When Billboard announced that Travis Scott's Astroworld had nabbed the top spot, with Minaj's Queen debuting at number two, the 35-year-old… lost it.
Travis sold over 50K of these. With no requirement of redeeming the album! With no dates for a tour, etc. I spoke to him. He knows he doesn't have the #1 album this week. I love my fans for the #1 album in AMERICA! I'll explain on #QueenRadio 4 albums in, #1 in 86 countries ♥️ pic.twitter.com/CiYEuczgm3

— QUEEN (@NICKIMINAJ) August 19, 2018
Sharing an image from Kylie Jenner's Instagram, which promoted hoodies that could be purchased in an album bundle, Minaj said, "Travis sold over 50K of these.. with no requirement of redeeming the album!"
"He knows he doesn't have the #1 album this week."
I put my blood sweat & tears in writing a dope album only for Travis Scott to have Kylie Jenner post a tour pass telling ppl to come see her & Stormi. lol. Im actually laughing. #Queen broke the record of being number 1 in 86 countries. Thank Jesus & thank you to my fans.

— QUEEN (@NICKIMINAJ) August 19, 2018
In another tweet, Minaj wrote she "put my blood sweat & tears" into her album, only for "Travis Scott to have Kylie Jenner post a tour pass telling ppl to come see her & Stormi. lol."
I looked at the numbers the Carters, Kanye, Nas, etc recently did. Travis sold 200K in his first week of clothes alone. I spoke to him last night & he said he's been selling clothes b4 the music. Billboard says they'll change the rules cuz of this, so it should be changed now!

— QUEEN (@NICKIMINAJ) August 19, 2018
Basically, she's deeply frustrated with how the charts are calculated, which might be fair enough. But it's not really baby Stormi's fault.
Most importantly, however, the seating arrangement for tomorrow's VMAs will make for a very, very awkward night.
tomorrow will be a mess sbfnngkskcc pic.twitter.com/AYjmFGnZdm

— ????????????????**???? | uᴉɥʇɐǝɹq (@Iemonade) August 19, 2018
4. Why Paris Jackson is being criticised for her latest magazine cover.
Paris Jackson is front and centre on the September issue of Harper's Bazaar Singapore – but fans are not exactly impressed.
The 20-year-old has been widely criticised online for appearing on the magazine's cover, as homosexuality is illegal in Singapore.
As a strong campaigner for the LBGT+ community, Paris was labelled a hypocrite for her appearance on the magazine.
"Paris makes no reference to the fact that same-sex sex is illegal in Singapore, and punishable by up to two years in prison," Jamie Tabberer wrote on GayStarNews.
Paris has since apologised to fans on Twitter, adding that she believes appearing on the cover is a step forward as she openly identifies as bisexual.
"I don't want to be hypocritical or hurt anyone…" she wrote.
"I would like to add though that someone that is openly apart of the community being on the cover in a country against the community, should be celebrated."
5. Why the royal family isn't a fan of Kate Middleton's engagement ring.
When Prince William popped the question to Kate Middleton back in late 2010, he presented her with his mother's engagement ring.
But what many don't know is Princess Diana's stunning sapphire ring has been the centre of controversy since the moment Prince Charles proposed to her in 1981.
In fact, despite being one of the most iconic engagement rings in history, the British royal family aren't exactly fans of the ring – or how Diana got it.
According to the Daily Mail, the famous white gold and diamond ring wasn't bespoke and it wasn't exclusive to Diana either.
When Prince Charles reportedly presented Diana with a selection of engagement rings to choose from, she chose a 'stock item'.
In fact the ring was actually featured in the crown jeweller Garrard's jewellery catalogue at the time, meaning any "commoner" with a spare $60,000 lying around could purchase their very own exact replica.
You can read the full story right here.