The third child of the Duke and Duchess of Cambridge, Prince Louis, was born on April 23, 2018, and since then, eagle-eyed observers have noted everything about the new family of five, from the christening details, to what's written on his birth certificate.
They've also noticed that recently that Katherine has been wearing an beautiful citrine ring…which, as it's seemingly new, was presumed to be a 'push present' – a gift from her husband as a thank you for 'pushing out' another heir to the throne.
HELLO! magazine reported that royal watchers believed that Prince William gave the ring to his wife after Prince Louis was born, because three weeks later, she was seen wearing it to the Duke and Duchess of Sussex's wedding.
Katherine was then wearing it at Wimbledon on Sunday – sparking an 'investigation' into its origins.
And the investigation produced an unexpected result: apparently the ring has belonged to Katherine for at least a decade.
A HELLO! reader, Mary Kathryn, observed that the Duchess wore the ring in January 2008, at her 26th birthday celebrations.
Paparazzi had snapped her in the back of a taxi with her younger sister Pippa as they left Kitts club on Sloane Square – and Mary Kathryn remembered it.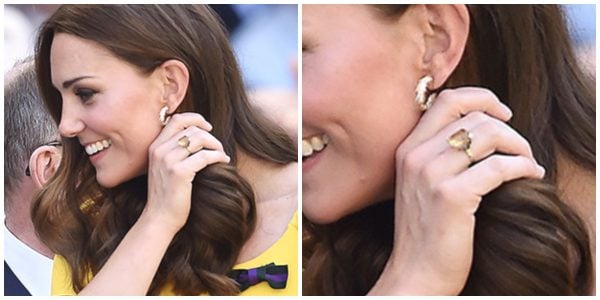 Whilst the citrine ring is technically not a 'push present' from the Duke, there's no need to worry about Katherine - she still has access to the Royal jewellery collection, and of course, is wearing the world's most famous blue sapphire (Princess Diana's engagement ring) on her wedding finger.
Inspired by the iconic ring, William later gifted Kate a pair of matching sapphire and diamond earrings in 2011. Katherine  customised them into drop earrings, which were debuted in her first tour as a royal, in Canada.
The Duchess also received green amethyst earrings from the Duke on their first Christmas as a married couple.
While it seems that exquisite jewels are a perk of being a royal, is nice to see Katherine enjoying a piece that she wore long before she became the Duchess of Cambridge.