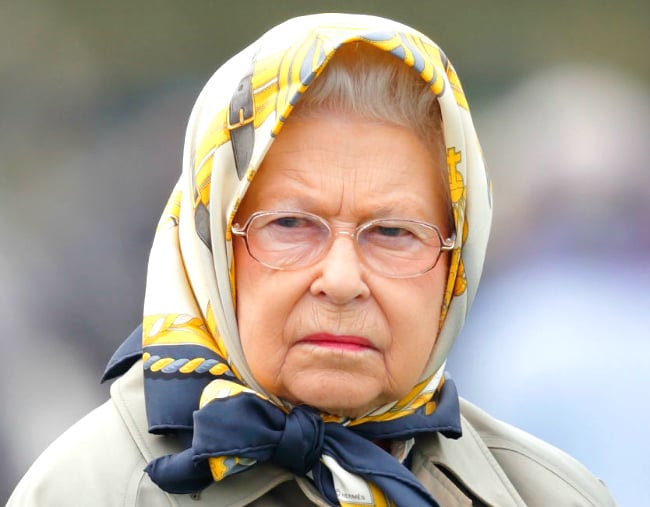 There are some things in this universe humankind were never meant to know about.
We're certain one of them was meant to be the Queen's sex life.
Now, thanks to a… book, we've crossed over into a place where we're imagining Liz and Phil in missionary and there's no going back.
The Queen's Marriage claims to pull back the curtain on the intimate details of Queen Elizabeth II and The Duke of Edinburgh Prince Philip's coital activities, shedding light on the topic of the royals' sexual appetites that probably could've stayed in the dark, The Sun reports.
*Shudder*
The author, Lady Colin Campbell (nee Georgia Ziadie), is somewhat of a royal reject. The 68-year-old biographer has no direct relation to any of the royals, but joined Britain's aristocracy after marrying Lord Colin Ivar Campbell, son of the Duke of Argyll Ian Campbell.
They married after knowing one another for five days, before divorcing 14 months later. The Jamaican-born, former I'm A Celebrity… Get Me Out Of Here UK contestant is best known for her royal biographies about the late-Princess Diana.
Now, back to the highly credible claims her book makes about The Queen and Prince Philip's marriage. Backed up by 'a variety of sources', of course. Let's go through them, shall we?
To be honest, we'd much rather think about The Queen's relationship with her Corgis. Post continues after video.
According the The Sun, Lady Campbell's The Queen's Marriage says:
"The servants were full of talk about how patently [The Queen] Lilibet enjoyed her introduction to the pleasures of the flesh [on their wedding night in 1947]."
"Philip confided in his brother-who-never-was, David Milford Haven, that Lilibet had a very healthy appetite sexually."
"He also let slip to his other Mountbatten cousin, Patricia, that Lilibet had the most beautiful skin all over."
"There has never been any doubt that they had a torrid time between the sheets. It started in her marriage and continued throughout, and there was never any secret about it.
"Philip himself said she was a goer."