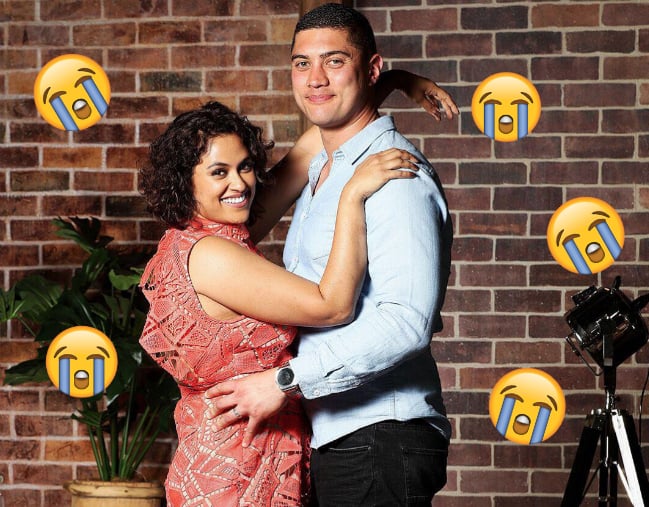 1. Ugh, we have very bad news for anyone emotionally invested in Married At First Sight.
SPOILER WARNING: This item reveals what possibly happens to all the Married At First Sight couples.  
Look, we don't want to ruin anyone's day (hence the spoiler warning), but we have some bad news about the results of this season's Married At First Sight couples.
According to sources who spoke to the Daily Mail, absolutely none of the couples are still together. Not one.
Not even Patrick and Charlene, who have so far looked promising. And definitely not Troy and Ashley, who have so far looked like they hate each other.
But there is one tiny glimmer of hope that fans may want to hold on to. Melissa and John refused to confirm their relationship was over. So while rumours are they've split, those rumours could be wrong.
We'd say love is dead, but that would be implying MAFS was about matching people with their soulmates and not creating entertaining drama. So…  ¯\_(ツ)_/¯.
2. Question: Who pays for Meghan Markle's royal wardrobe?
You'd expect a Hollywood actress-turned-almost princess like Meghan Markle to be rolling around in freebies.
And we're not talking detox tea and teeth whitening kits but the real stuff, like diamonds and designer dresses. Right?
Wrong.
All of the gorgeous and much coveted pieces Meghan wears have to be paid for. By Meghan herself.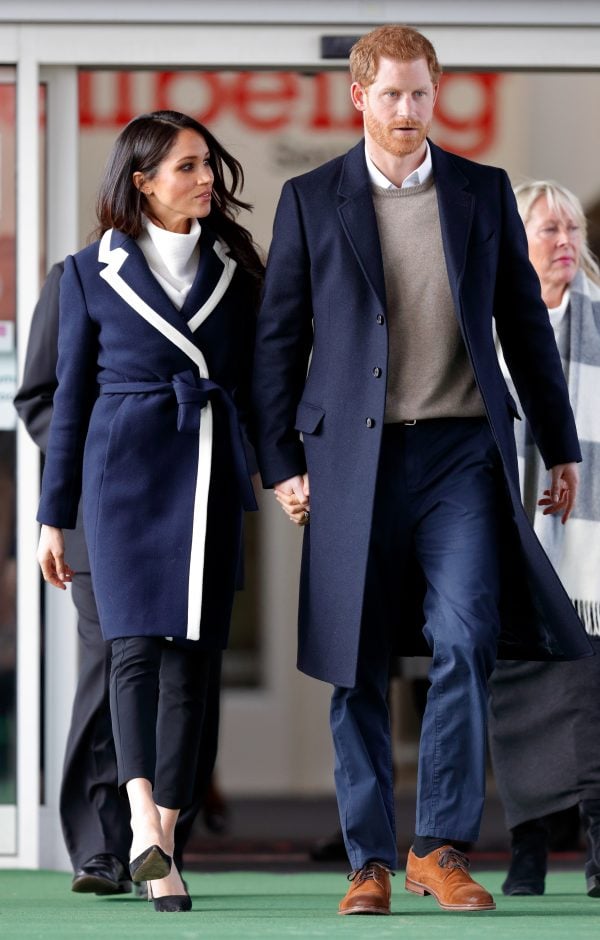 According to People, Harry and Meghan pay for all their clothes themselves as royals are not allowed to accept designer clothes for free.
So for any given occasion, an assistant will call in a variety of pieces from designers and the ones that aren't worn are returned while the successful outfit is paid for.
However, come May 19 when Meghan marries Harry, her clothing budget for official duties will be covered by the money gifted by Prince Charles to his children, taken from his Duchy of Cornwall income of about $28 million.
Not too shabby.
Meghan Markle had to go to 'kidnap training' and this is best thing we've ever heard.

3. Khloe Kardashian just embarked on her next money-making venture: Maternity clothes.
If you can't find the perfect maternity jeans, why not create them?
Good American, the fashion brand co-founded by Khloe Kardashian, has launched their first maternity denim and clothing line.
In her third trimester, Khloe Kardashian modelled the new jean line, called Good Mama, on her Instagram while holding her baby bump. Because of course.
According to Racked, Good American reached sales of $1 million on its first day of business (nearly two years ago now), so we're sure this venture is going to be quite the success as they broaden their target market.
Once again the Kardashians have proved that if there is one thing they do superbly well, it's making money. Lots and lots of money.
4. Celebrities share their messages on Australia's national day of bullying.
Today is National Day of Action Against Bullying and Violence and Australians are sharing their messages promoting kindness.
Former Studio Ten host Jessica Rowe, who is an ambassador for charity You Can Sit With Me, said she was proud to support the group, who seek to empower kids to be kind, thoughtful and inclusive.

Meanwhile, House Rules winners Adam and Lisa shared an impassioned message about "doing everything we can to stop bullying".

And radio host and columnist Mel Grieg, who experienced the horrific effects of bullying first-hand after the 'royal prank phone call' in 2012, shared her own message calling for more action.
"We need legislation for tougher penalties against cyber-crime. We need zero tolerance in schools. We need more arrests. We need more action from social media companies. We need parents teaching empathy and resilience in our young. We need children to talk about what they are going through."

She's also released a special audio show that can be heard on her website Troll Free Day.
5. "Shame on you." Rihanna slams repulsive Snapchat ad making fun of Chris Brown's violence.
Singer Rihanna has called out Snapchat for "intentionally shaming" victims of domestic violence.
An ad on the social media app asked users if they'd prefer to "slap" her or "punch" Chris Brown.
The question was in reference to a 2009 incident, when Rihanna's then-boyfriend, rapper Chris Brown, assaulted her.
For more details on her response, read the full story.