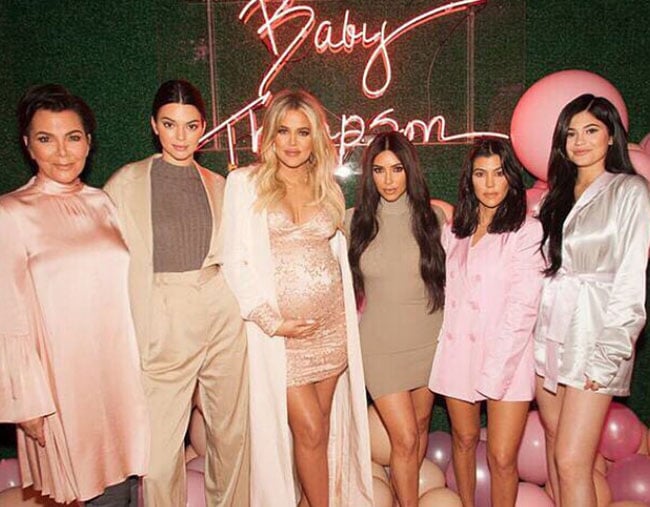 In case you dropped your phone in the toilet on Friday night and therefore didn't have access to Instagram all weekend, Khloe Kardashian just held the most lavish baby shower we've ever seen.
And that's saying a lot for a family who has held no less than THREE separate baby celebrations since the start of 2018.
See the unmissable pics from Khloe's baby shower:
For Khloe and her little girl, no expense was spared (and no detail was left off Snapchat): there were nearly life-sized elephant-shaped topiaries, a pink flower wall (for those aforementioned social media snaps, of course), hundreds of balloons in every imaginable shade of pink, a dessert table that featured treats in the shape of various animals, and a neon pink sign that read 'Baby Thompson' (in case, you know, guests forgot which Kardashian baby they were celebrating).
But upon sifting and sorting through the endless social media pics from Khloe and her bump's big day, there was one that caught our eye:
Sure, for the uninitiated, it may look like just another Kardashian-Jenner family snap. But those in the know will recognise the staggering worth the photo contains.
$909 million of worth, in fact.
The photo pictures all five Kardashian-Jenner sisters – Kendall, Khloe, Kim, Kourtney and Kylie – plus 'momager' Kris Jenner, in what appears to be the first 'official' snap of them all together since Kanye West's Yeezy season three fashion show in 2016.
LISTEN: With a life lived in the spotlight, do the Kardashians have a right to ask for privacy? The Mamamia Out Loud team discuss. Post continues after audio.
The picture paints a staggering picture of just how far the family has come from their first days on realty television, and just how powerful they still are in 2018.
So, who is the richest Kardashian of them all?
Well, as of last month, Kylie pipped big sister Kim at the post for the title of 'Richest Kardashian On The Block'.