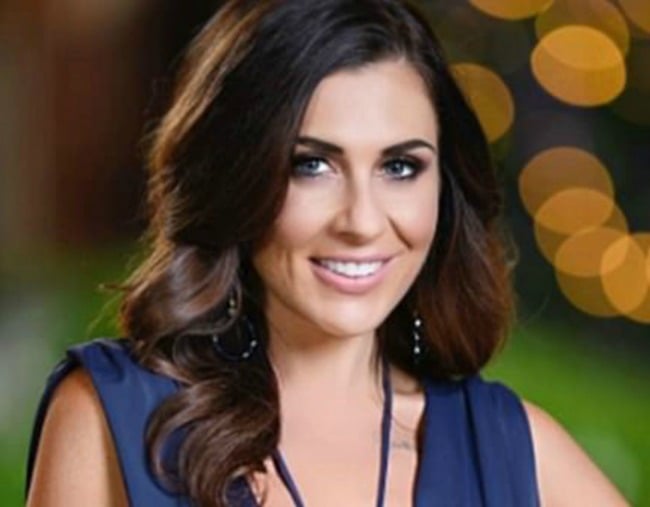 1. Former Bachelor villain Jen Hawke shares her advice to this season's villains.

Former Bachelor villain Jen Hawke has left some words of wisdom for this year's villains ahead of tonight's season premiere of Australia's The Bachelor.
Speaking to Daily Mail, the 27-year-old shared some advice for the new villains we're sure to see on Nick "The Honey Badger" Cummins' season.
"When the public backlash comes, surround yourself with people who love you and know who you actually are," Jen warned.
"To those who are lucky enough to get good edits, remember your actions in the house and be thankful to be represented in that light."
Jen Hawke clashed with other contestants when she appeared on Matty J's season of The Bachelor last year.
Speaking to Marie Clare magazine earlier this year, Jen said that how she was portrayed on screen last season is very different to her real life personality.
"Australia thought I was really savage, but that's not what I'm like in real life," she said.
2. Natarsha Belling shares gruesome injury on Instagram.

Channel 10 newsreader Natarsha Belling has suffered a gruesome injury – and she posted a photo of it to mark the occasion.
The Instagram is of Belling's arm, which suffered numerous (and gory) cuts after she fell down an escalator.
Explaining how she came to hurt herself, Belling wrote: "So, someone once said shopping can be dangerous… here's proof! Very sore and sorry today after falling 12 steps down an escalator. And I was sober!"
Despite the painful injury, Belling said she was determined to keep her work commitment of hosting a charity event that night.
"Thank you to all the kind people who helped me and to the wonderful doctors and nurses for putting me back together! ????
P.S Please excuse the crutches and hopping as I co-host @curecancerau fundraiser tonight!"
Belling's fans were quick with empathetic comments, wishing the host a speedy recovery, and sharing that they had done the same thing to themselves.
"Wow same thing happened to me," one fan wrote. "Unfortunately my shin was cut open to the bone. It just happened in a blink! Happy and quick healing."
3. Em Rata posts #FreeTheNipple wardrobe malfunction on Instagram.

It's no secret that Emily Ratajkowski, a.k.a Em Rata, is very comfortable with her body.
This week the 27-year-old model posted a photo to Instagram featuring a wee bit of a wardrobe malfunction…
Em was clearly not worried about the mishap, simply blurring out her nip slip.
Speaking to Byrdie this week, Em told of how her Instagram was "a curated version of a character".
"It's not my real life. Hopefully, young people understand that. I really try to bring that home a little bit because it's like, I'm basically making my own magazine so to speak," she said.
"I'm curating this world. You're definitely not seeing me when I woke up this morning with a fever, sweaty, with my mascara underneath my eyes. No, I'm not posting that."
4. Priyanka Chopra flashes massive engagement ring from Nick Jonas.
Some have called Priyanka Chopra and Nick Jonas' engagement rushed. Sure, two months may not seem like an especially generous amount of time to develop a profound, lasting connection with another human being.

But it seems it is enough time to design and craft an enormous bespoke diamond ring. So there's that.
The Indian-born actress showed off the rock for the first time an Instagram post shared by her friend, Bollywood star Raveena Tandon.
There haven't been any official details released about Chopra's engagement to the 25-year-old pop super star, let alone the ring, but judging by the photograph it appears to be a customised Tiffany & Co. cushion-cut diamond with tapered baguettes… Or something.
It's believed the secretive couple got engaged at the end of July, while celebrating the Quantico star's 36th birthday in London.
5. MAFS' Dean Wells got sprung asking a Melbourne restaurant for a free meal.
Well.
This is embarrassing.
Married At First Sight star Dean Wells has been caught red-handed asking restaurants for free food, and we honestly don't think we've ever felt this much second-hand embarrassment.
Shared to Instagram by restaurant food critic John Lethlean, an alleged leaked email exchange revealed Dean's management requesting a free "wine and dine" experience with a Melbourne restaurant in exchange for Dean plugging the restaurant to his 80,000 Instagram followers.
"I just wanted to touch base regarding our client, Married At First Sight star, Dean Wells who is looking to wine and dine in the city of Melbourne on the 18th of August," the alleged leaked email read.
"I thought this could be a good opportunity for them to attend your restaurant, as Dean has over 80K followers across his Instagram," a representative for Dean reportedly said.
Read the full story here.