1. Tonight's Married at First Sight promo confirms a long-running rumour about Troy.
The moment we kind of knew was happening is here, and despite all the possible spoilers, it's still just as sweet.
In the episode that should be alternatively titled, "In which everyone gets drunk and the sh*t hits the fan," it's the Grand Final Dinner Party and it is chaos. Just the way we like it.
One shot reveals Troy in bed with a light-haired woman who is most probably Carly, and who he has been rumoured to have been dating for weeks now.
Ashley is most definitely not a happy-chappy about this and chooses not to take it well.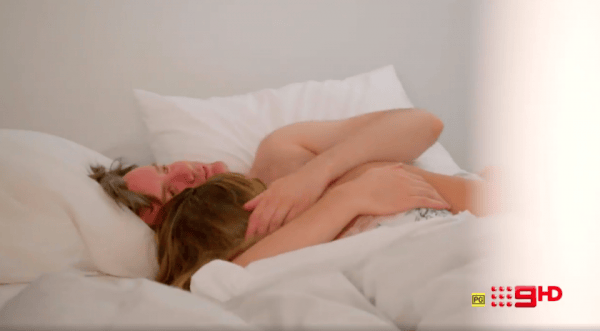 "We were friends!" shouts Ashley at another woman who again, is most probably Carly.
This comes after yesterday's episode in which Troy had a sudden realisation, with the help from his mother.
And now it looks like he made even more realisations very, very soon after that.
On the topic of Married At First Sight, we debrief on the moment Tracey shattered Dean's heart into a million tiny pieces. It was great. Post continues after audio.

2. The sex rules on Bachelor in Paradise are very different from those we've seen on The Bachelor.
In comparison to The Bachelor in Paradise, The Bachelor and The Bachelorette are almost PG.
This means that Bachie in Paradise will contain more sauce than all the McDonalds in Australia combined, and we are so excited.
So here's the thing, sexy times on The Bachelor / Bachelorette were always kept to an assumed level - did they, didn't they (Stu and Soph definitely did)?
But things seem different on Bachelor in Paradise. And now Davey Lloyd - who attempted to woo the heart of Sam Frost in a former season of The Bachelorette, has gone and confirmed it.
Speaking to NW he said that he's packed a box of 12 condoms... which to be honest seems to be a conservative amount given the premise of the show.
"I packed condoms, if you want me to be honest - who knows what jungle fever they have on those beds over there," he said. Okaaay. 
And apparently he's got his eye on Florence Moerenhout from Matty Johnson's season. "I've always had my eye on Flo," he said.
The drama starts this Thursday, and we are ready.
3. Carrie Bickmore couldn't stop laughing at a really "bad segment" on last night's episode of The Project.

Live television is the best kind. For its bloody hilarious bloopers, of course.
In the midst of giving Australia the rundown of the news of the day last night on Channel Ten's The Project, 37-year-old presenter Carrie Bickmore couldn't hold it together and instead, lost her marbles in fits of laughter.
Ah yes, but what's so funny about reading the news of the day you may ask? Well, it had nothing to do with that.
Prior to Bickmore's giggling episode, co-host Peter Helliar aired a new segment titled 'Aww Nuts', showcasing a compilation of athletes being hit in the lower, uhm, region. Awww, those poor crown jewels.
However, Helliar had instructed the audience to shout 'aww nuts' every time an athlete was hit, and after gauging that it was a disappointing segment due to a lack of audience participation, Carrie broke into laughter.
Resident sports expert Peter Helliar debuts a new segment so powerful that it slowly begins to take over the rest of the show… ????

Posted by The Project on Monday, 19 March 2018
Barely pausing for breath as she chuckled, Bickmore said, "That was just such a bad segment!"
Thankfully the panel of experienced co-hosts (Waleed Aly is a man of great talents), stepped in to help her complete the news update.
Bless live TV.
4. These photos from the set of Big Little Lies season 2 have us very intrigued.

Gather around the school gate, because Big Little Lies season two is currently in production.
Who will die? Who will kill them? Who will live in a ridiculously big house near the ocean? (HINT: all of them).
Anyhoo, the cast have been sharing some behind-the-scenes photos on Instagram and we can't bloody wait to find out what's going down in Monterey.
We feel it will be stabby and also a lil' mysterious. Here's what we have seen so far.
Reese Witherspoon and Laura Dern are sitting in a cafe, talkin' about their murdering ways.
Shailene Woodley doin' a pose.
And Zoe Kravitz being all moody.
Hurry up, season two!
5. What every celebrity has said about the Stefanovic brothers' phone call saga.

It's only March, but we're calling it. The Stefanovic brothers' phone call saga is the Australian TV industry drama of 2018 – and everybody has an opinion.
So far a number of other media personalities have shared their thoughts on a loudspeaker phone call between Peter and Karl Stefanovic allegedly recorded by an Uber driver.
During the 45-minute conversation, we're told Karl, who was not in the car, said his Today co-host Georgie Gardner was "sitting on the fence" when it came to her opinions and needed to "step up" to stay on the show.
Early claims that the conversation was recorded by the driver – and that he reportedly shopped the story around before selling it to New Idea - have celebrities divided on who should be facing the blame for the fallout.
Read the full story here.