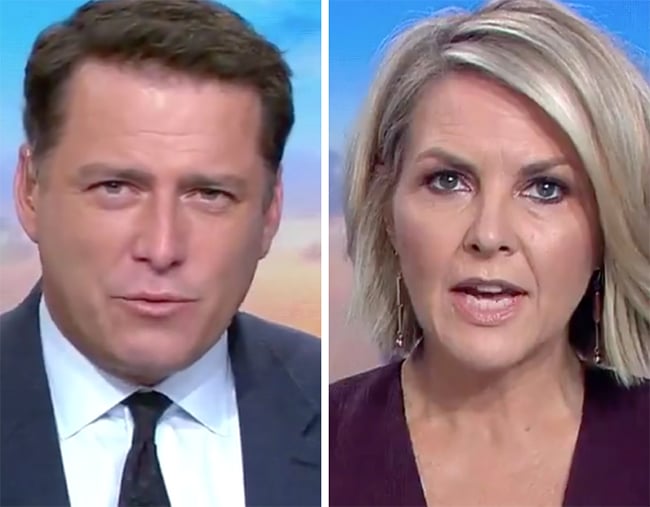 There is news about bushfires, Harvey Weinstein and a pub being robbed in Brisbane's north east on breakfast show Today this morning…
But beneath the 'business as usual' exterior, the tension between co-hosts Karl Stefanovic and Georgie Gardner must be excruciating.
Karl is back on the desk after returning from leave and, in difficult timing, reports that he said Georgie "needs to step up" during a 45-minute private conversation with his brother are making headlines.
The conversation between Karl and his brother, fellow Nine presenter Peter Stefanovic, was reportedly overheard by an Uber driver who had picked up Peter late at night.
Details of the conversation have been published by New Idea this morning, with the driver saying the brothers talked first about Georgie, who Karl accused of "sitting on the fence".
"He said she didn't have enough opinions and he wanted her to step up," the driver, who remains unidentified, told New Idea.
"He actually sounded angry and said he was going to start pushing hard and that she needed to do that if she wanted to stay on the show."
He said Peter's wife Sylvia Jeffreys was also in the car, but she did not get involved.
The driver – who reportedly was paid $50,000 for the story – has denied recording the conversation, saying he simply heard it on speakerphone.
In November last year, it was announced that Georgie would replace long-time host Lisa Wilkinson on the Today desk. She began on the show in January and it's been a (seemingly) seamless transition.
LISTEN: Karl Stefanovic and Jasmine Yarbrough had a commitment ceremony. Here's why.
As well as Georgie, it's believed the conversation between Peter and Karl touched on fellow Today presenter Richard Wilkins, as well as a number of executives at the Nine Network. These details have not yet been made public.
The brothers released a statement apologising for the scandal, calling it a "stupid" oversight and a "silly thing".
"We talk a hundred times a day and hardly ever about work," Karl told the Sunday Telegraph.
"But we did, and the conversation was recorded. And we are sorry. I was angry with myself at first that I could be so stupid."
Peter added: "I did a silly thing and feel awful for any embarrassment I've brought to my colleagues, who I deeply ­respect."
In an attempt to diffuse the situation, Karl also said "Georgie is killing it" and "he loves working with her", according to Channel Nine.