To catch up on all the MAFS 2022 recaps and gossip, visit our MAFS hub page.
It's decision day. 
Over in Cody and Selina's apartment, he says "looking good" to Selina as she finishes her make up and Sir, with all due respect, shut the f**k up. 
"I'm just wondering," Selina asks, reflecting on the time she married a man who wasn't attracted to her based on her ethnicity, "with your application process, like if 'Asians' weren't your thing… don't you think you should have written that?"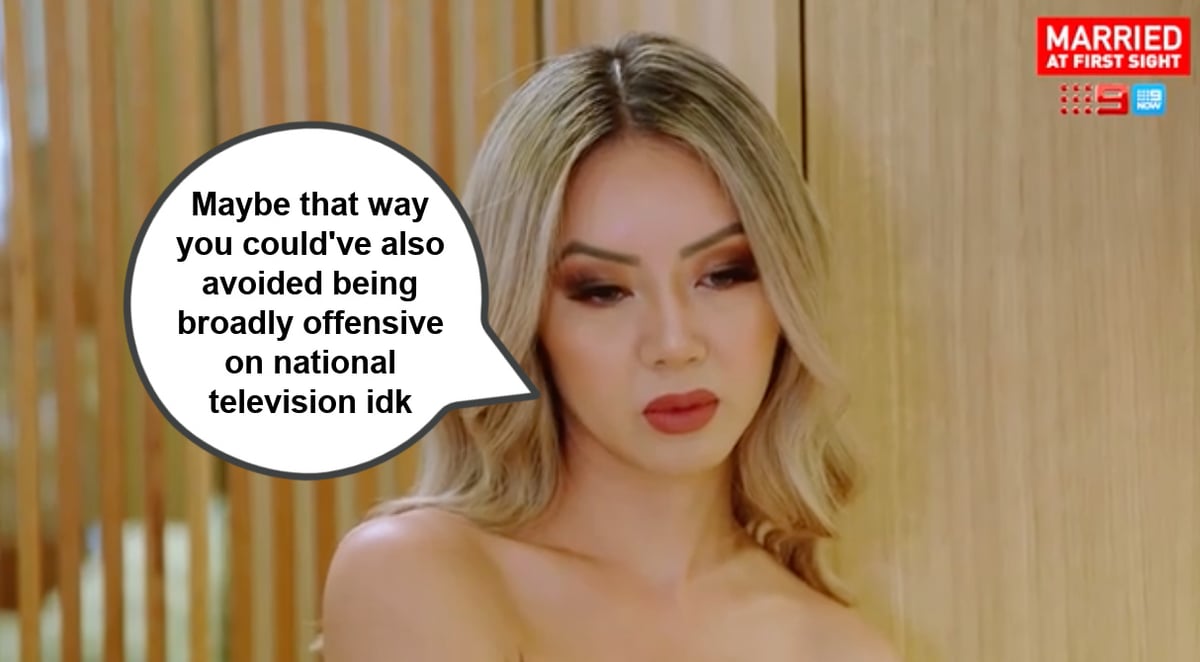 Just something to think about for next time.  
And GREAT QUESTION SELINA. CODY DO YOU CARE TO COMMENT. 
Cody insists he never said it wasn't his thing and he thinks she's beautiful and we were there Cody. This show never lies except for sometimes when they splice up people's sentences and clearly make them say things they never said. But we're 70 per cent sure this was not one of those times. 
Over in Holly's apartment, she tells the camera she doesn't feel very appreciated and it's like LADY YOUR HUSBAND DOESN'T LIVE WITH YOU. She's upset that she baked Andrew cupcakes to mark his daughter's birthday and he hasn't acknowledged it, which is awkward given that we know for a fact he ate at least one in a single bite. And it doesn't appear to have been poisoned. Which shows incredible restraint from Holly.