It's nearly Christmas, which means it's time for your annual re-watching of everybody's favourite Christmas movie, Love Actually.
Nothing could improve this quintessential Christmas experience, you think. Well, to that we say, "don't be so sure", and present you with five Love Actually fan theories that we think make watching the film even more enjoyable.
So before you watch the romantic comedy this year (or watch it again for the third time this month) take a look at these…
1. Daniel is in love with Karen.
In the film, we see Liam Neeson's character Daniel and Emma Thompson's character Karen are good friends, best friends perhaps. But what if there were more to it?
After watching Love Actually for the "4000th time", Twitter user Jen Lewis said discovered a line in the film that strongly suggests Daniel is in fact in love with Karen.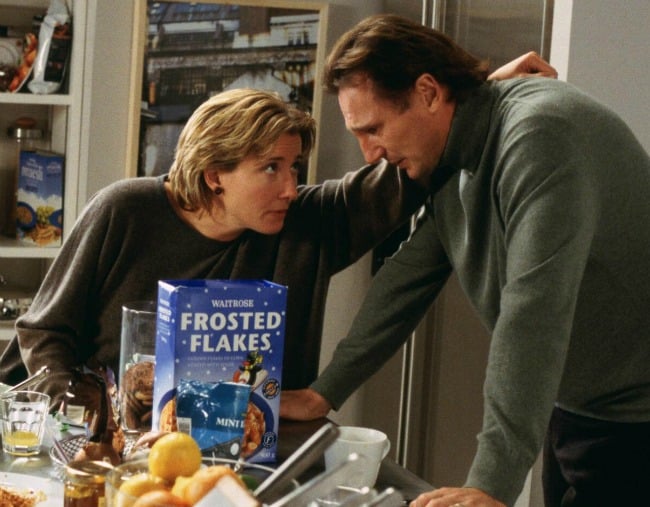 When Daniel meets Claudia Shiffer's character near the end of the film, she introduces herself as Carol. But as they're parting, he says "Well, I hope we'll meet again, Karen," and she corrects him.
It's called a Freudian slip and we agree that it could be a serious sign that his true love was on his mind as he spoke. We love the implications of this - if Karen's marriage ends due to her husband's affair, she could end up with Daniel.
What's funny about this theory though is that Neeson dismissed it as "sick" in a 2016 interview, saying Karen is his sister. Clearly, he needs to rewatch his own film - because they're definitely not siblings.
2. Rufus is an angel and Mia is the devil.
Sure Mia (Heike Makatsch) is a pretty irredeemable character, but is she outright evil?
Fans seem to think so. They contend her "sexy" Christmas party costume isn't just a metaphor, and that she is, in fact, the devil, hellbent on destroying Harry (Alan Rickman)'s family. The timing is also perfect - Christmas is the devil's arch-rival's birthday, after all.
They suggest that Rowan Atkinson's character, shop assistant Rufus, was actually an angel trying to save Harry's marriage by taking so long to wrap the necklace on purpose.