In 2003, Liam Neeson won our hearts as Daniel, the newly-widowed father in Love Actually. At the time he had no idea just how closely life would imitate art.
Just six years later, Neeson found himself alone with his two sons, Micheål and Daniel, after his wife and their mother, fellow actor Natasha Richardson, died in a tragic skiing accident.
"Plenty of times I've thought about this film and my own life. Love Actually, that's the way it is," Neeson told Entertainment Weekly following the recently released Red Nose Day follow-up film. "That's the tapestry of life."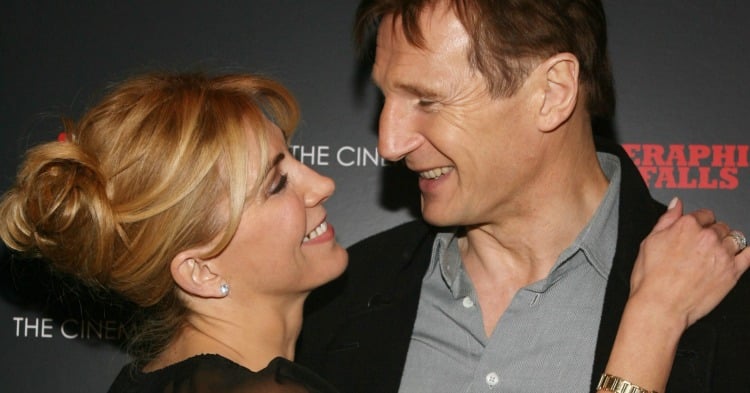 "It's 14 years ago now and we've all lived lives," Neeson continued. "Some of us have died. Oh, my dear old friend Alan Rickman, God rest him. Some have gotten divorced. I've lost my wife."
Neeson and Richardson had been married for 16 years when in 2009, she fell on a beginner's skiing slope at Quebec's Mont Tremblant and suffered a head injury.
The couple's sons are now 20 and 21 respectively.
Initially, doctors believed the injury to be minor, but two days later she died at a New York hospital, surrounded by family and friends.
Last year, Neeson posted a tribute to Richardson on his official Facebook page, writing, "They say the hardest thing in the world is losing someone you love. Someone you grew old with and watched grow every day. Someone who showed you how to love. It's the worst thing to ever happen to anyone."
Listen: This Glorious Mess discuss the different ways men and women grieve and experience loss. Post continues... 
"My wife died unexpectedly. She brought me so much joy. She was my everything. Those 16 years of being her husband taught me how to love unconditionally," the post continued.
"We have to stop and be thankful for our spouses. Because life is very short."
Neeson has not remarried or been publicly linked to anyone else since Richardson's death.