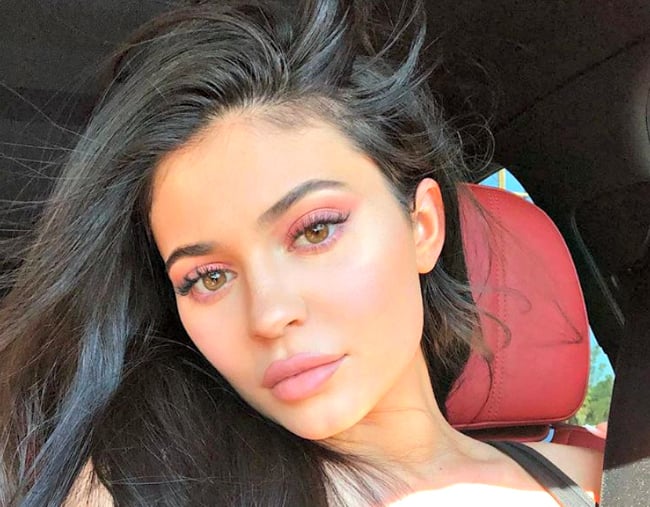 To be on the cover of Vogue was "once just a wild dream" for Kylie Jenner.
Today, that dream became a reality, with the 21-year-old featuring on the cover of Vogue Australia's September issue.
For her first Vogue cover, ever, the cosmetics entrepreneur was interviewed by older sister Kendall Jenner about life and body image after becoming a mother to seven-month-old Stormi Webster.
"I feel like having a daughter, and thinking about beauty in the future, has definitely changed me, and I feel like it has made me love myself more and accept everything about me," the mum-of-one said.
The images from Kylie's cover shoot support that statement. They're stunning, but one detail made us do a double take.
Not because it's bad, but honestly, because we haven't seen her like this, without a full face of makeup, for years.
To say Kylie isn't wearing a lick of makeup on the cover would be both irresponsible and inaccurate.
But in comparison to the look she made famous and made her almost-billion dollar fortune from – over lined lips, lip fillers, false lashes, extreme contouring and bleached blonde wigs – you'd be forgiven for thinking she's bare-faced in the images.
You can see the freckles on her nose through a swipe of sheer, lightweight foundation. It could even be tinted moisturiser with a touch of concealer – the cover's makeup artist Ariel called Kylie's look 'moisturiser by Ariel' on Instagram.
Her brows are filled in and defined, and her lashes have the volume that only comes with mascara or eyelash extensions. But really, that's it.
Lip balm replaced her go-to lip liner and matte liquid lipstick. There's no contour or highlighter, not even bronzer. In a way, there's no facade. This is not the Instagram Kylie Jenner character we're used to.
The face we see on the cover of Vogue is the fresh face of a woman in her early 20s.
So what does this mean for the future of Instagram makeup?
It could mean the end, and at the same, nothing at all. That really is completely up to Kylie.
How we 'see' Kylie is never by someone else's design. Kylie Jenner has complete control over the image she projects to the world, and her first ever Vogue cover would've been no different.
To be photographed pared back, with her natural hair worn short and tousled, and in shapeless, oversized clothes was a deliberate move. As were the carefully styled photographs of her and the rest of the Kardashian family at Kylie's 21st birthday earlier this month.
Right now, this is the Kylie Jenner she wants you to see. And we're grateful for it, because we'll take any natural-looking image on social media of an influencer with a following made up of millions of women and girls we can get.
But it also means, at least for today, that Instagram makeup is out.
Or, just as likely, that her next product range is a collection of tinted lip balms.
What do you think of Kylie Jenner's Vogue Australia cover shoot? Tell us in the comments below!