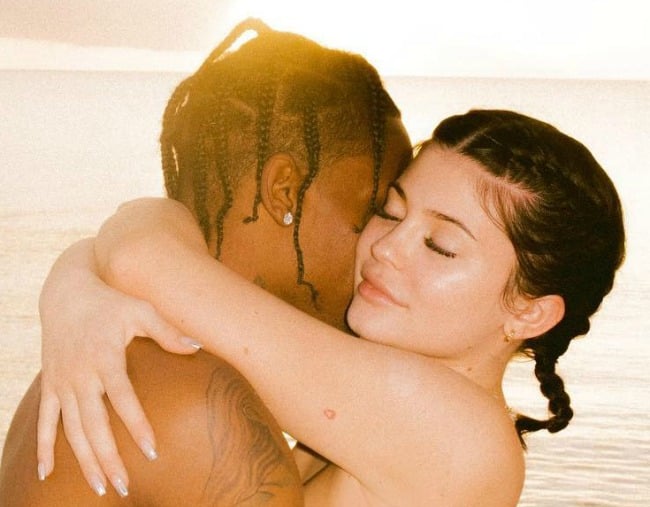 1. How Kylie Jenner celebrates birthdays is certainly… out there.
It was Travis Scott's 26th birthday on Sunday, and Kylie threw him a party.
But it wasn't just any old birthday party, in celebration of her beau's special day, the 20-year-old mum of one rented out the entirety of amusement park, Six Flags, and invited their nearest and dearest along.
Kylie also had custom black and white hoodies made for the guests with a lavish cake emblazoned with 'Astroworld', the title of his latest album.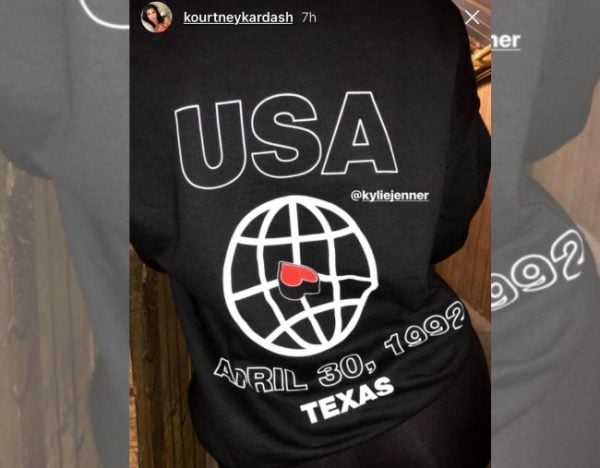 Then, well, then they went on a yacht.
To be honest, we're not even surprised - Kylie is renowned for throwing lavish parties; case in point her over-the-top Easter party last month, which included rainbow grilled cheese sandwiches shaped like eggs and a petting zoo.
You can watch the footage from that carnivale below:
2. These throw-back photos of Bachelor In Paradise's Keira and Jarrod at Christmas lunch are giving us feels.
You know how Sophie Monk said she and Stu Laundy spent a loved-up Christmas together but we didn't believe her?
Well Bachelor in Paradise's Keira Maguire has just shared throwback photos from her Christmas with new (... or not so new?) boyfriend Jarrod Woodgate and we are feeling all the feelings.
"I've been wanting to share these pics since Christmas Day... I love this pic of @jarrodwoodgate & I, its our first pic & Christmas together.... I have it framed in our room," Keira captioned the adorable photos.
"I met Jarrod's family for the first time & they were so Welcoming & Beautiful to me, I may have shed a few tears of happiness. OK I need to stop now."
Yes. Yes, you do Keira. Because we, the Australian public, have just about reached our emotions threshold for the year and we've still got two seasons of Bachelor to go.
Side note - We debrief on a Bach in Paradise finale that had us feeling far more than we expected to. Post continues after audio.
3. Aussie supermodel Shanina Shaik just got married and her dress was Stunning-with-a-capital-S.

Is it just us or is everyone having ridiculously beautiful weddings right now?
First there was Nicole Warne and her hectic prep. Then came Aussie Home Loans heiress Deborah Symond's wedding featuring a $200,000 wedding dress.
Now, feast upon Aussie supermodel Shanina Shaik's gorgeous wedding photos.
The 27-year-old Victoria Secret model married DJ Ruckus - real name Gregory Andrews - in a beach side ceremony in the Bahamas wearing a Ralph and Russo lace dress, Aquazzura shoes, Lorraine Schwartz jewellery and makeup by celebrity makeup artist Rae Morris.
Oh to be beautiful and rich, hey?
4. Anna Faris and Emma Stone are officially each other's doppelgängers. That is all.

With seven billion people in the world, there are bound to be a few unrelated people who just happen to look like identical twins.
And in the US entertainment industry where one look (beautiful) creates a certain homogeny, we noticed there are quite a few doppelgänger pairs. (Katy Perry and Zooey Deschanel are clones, we swear.) But how, how have we gone this long without realising that Anna Faris and Emma Stone are basically the same person?
Okay, maybe we're exaggerating here, but photos of Anna Faris at the Overboard premiere had us, and Lainey Gossip's Elaine Lui, doing a double-take.
Here's Anna:
And here's Emma:
And once you notice, you can't stop noticing. Here's another side-by-side, just so you can really see how their big Disney princess eyes, pale skin and hair and small features make them dead-ringers for each other:
INSANE.
5. "I look like Dolly Parton. On steroids": Bec Judd was Not. A. Fan. of her post-baby boobs.
It's something that goes through the mind of every new mum, but Bec Judd got hit with the post-baby, breastfeeding boob growth extra hard.
Sharing on KIIS FM's The 3PM Pick Up, the author and blogger said that after the birth of her now six year old son Oscar, she found herself right in the middle of *ahem* Boobtown.
Just like a certain ample-bosom country singer herself.
"I [looked] like Dolly Parton. On steroids," said Bec Judd on .
You can read the entire story and see the amazing photo right over here.