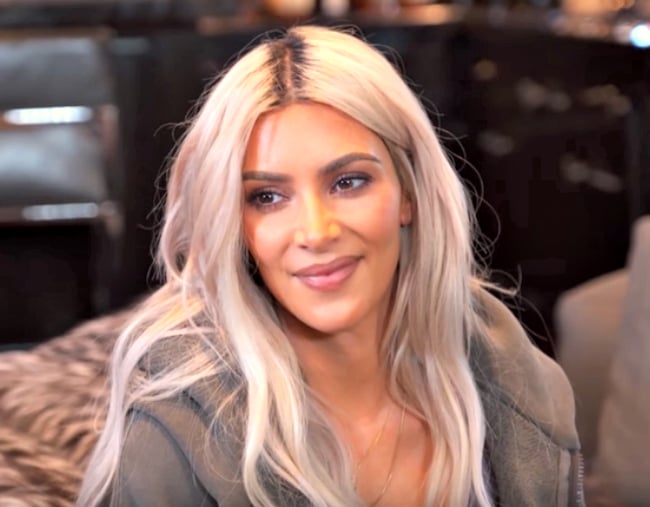 Almost two months after Kim Kardashian West and Kanye West welcomed baby Chicago into the world, we have finally been introduced to the surrogate who helped make her possible.
Kim, 37, introduced her surrogate La'Reina Haynes to her family on the season 14 finale of Keeping Up With the Kardashians.
Kim and Kanye made a conscious effort to protect the identity of their surrogate throughout their pregnancy, however Haynes' appearance on KUWTK gave viewers an insight into what it was like working with a surrogate to have their third child.
Although Haynes' face is hidden throughout her appearance on the show, we heard how the woman who's been completely silent during the entire surrogacy process feels about helping, oh you know, Kimye have their third child.
Watch Kim introduce her surrogate to her family on Keeping Up With the Kardashians below. Post continues after video.
"I like being pregnant. I know it sounds really weird," Haynes told the family – Kris Jenner, Khloe Kardashain, Kylie Jenner and Kendall Jenner.
"The pregnancy itself, you know, it just feels natural, like I'm supposed to do it. I'm so proud of doing it in general. With all the women who do have pregnancy issues, that put so much trust in people like me, it's amazing. It's already a big deal."
Speaking to a concern many women pursuing surrogacy have, Haynes said she was, at the time, aware of her role in Kim's third pregnancy which gave older siblings North, four, and Saint, two, a sister.
"I know from the very beginning this is not my baby. At the end, my joy and my satisfaction is whoever I'm having the baby for," she said.
"So when the baby comes out they're like, 'Okay, well do you want skin on skin?' I'm like, 'No, let her go to her mum.' I know what my job is in all of it, you know what I'm saying? It makes me feel important because I'm like, 'Wow, I did something so good. This is beautiful. I would do this again a thousand more times.'"
The footage also shows both Kylie and Khloe pregnant – Khloe told Haynes "you and Kylie are one month apart" – and Kim telling the audience why it was important to her to introduce her surrogate to her family.
"My surrogate is in town for a doctor's appointment so I thought it would be an amazing time for her to meet my family but still not expose who she is to the world — just for her safety," the reality TV star and business woman said.
"This has been such a long journey for us and something that I've wanted to do for so long. And I share everything with my family. I didn't really know what to expect because I don't really know anyone that's gone through this. It was definitely not as easy as I thought it would be emotionally, but it's so worth it.
"Our surrogate is such a nice person. My family absolutely loves her and I'm just so grateful. Surrogacy is such a beautiful thing."
Kim has previously spoken about her decision to use a surrogate, and how that person fits into your life.
"It's kind of weird when it's not you," she told sister Kourtney Kardashain during a December 2017 episode of KUWTK.
"I don't know whether I should start eating donuts and celebrate like I would like old times or just go to the gym. I'm totally gonna forget and then a month before I'm gonna be like holy sh*t, we need to get a nursery!"
During both of Kim's earlier pregnancies, she suffered from preeclampsia, high blood pressure which can result in early delivery, and placenta accreta.
Mia Freedman speaks to surrogate Shannon Garner, about what it's like giving birth to a child that you'll never see grow up below.
Shout out to all Dads. Here at Mamamia we are always looking for ways to make Mamamia even better. Dads, we need you to help us do that by filling out this quick 15 min survey for us. Click the button below for your say.