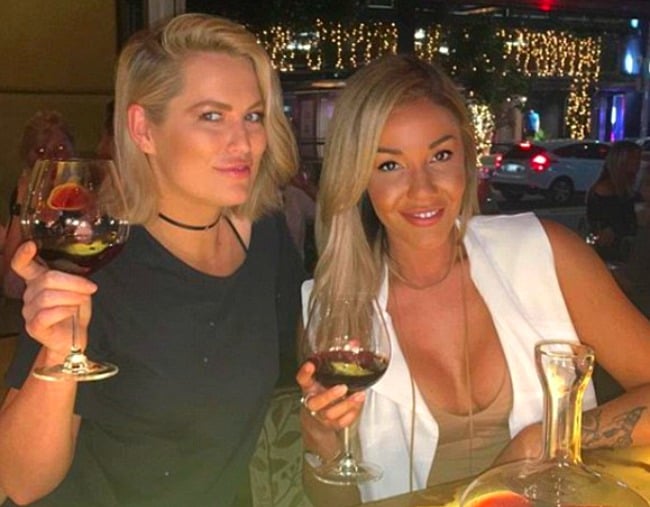 It's the Australian reality TV crossover of our dreams.
Turns out, former Bachelor contestant Keira Maguire and Married At First Sight bride Davina Rankin are mates. More in common than just being the designated "villains" of their respective love-themed shows, these ladies actually go way back.
"I've known her for ages. My best friend went to school with Davina – I went to her 21st," Keira told OK Magazine.
The moment Davina decided she would leave Married at First Sight. Post continues.
And that friendship came in handy for Davina, with Keira able to offer her some advice on coping when it seems like half of Australia hates your guts based on 20 minutes of collective screen time.
Earlier this month, Keira told Mamamia that she was shocked to find herself painted as a villain when she watched her 2016 season of The Bachelor.
"I had no idea that I was going to be a villain, none at all. But at the same time, I'm not someone who holds back on what they say. I didn't really care what people thought and I am quite honest," she said.
The 31-year-old said that the abuse that followed was the hardest part to deal with.
"Yes, have an opinion, but don't go on their social space," she told reality TV fans. "We're reading everything.
"It doesn't matter how resilient you are… it really takes all of your energy. It sucks the life out of you."
Catch up on MAFS with The Twins. Post continues.
However, the yoga enthusiast decided to put herself back out there and is making a name for herself as a reality TV queen.
She'll be following up last year's outing on I'm A Celebrity Get Me Out Of Here with a stint on the upcoming Bachelor in Paradise – and she wants her friend to follow in her footsteps.
"I said, 'You should go on Love Island,'" she told OK! Australia. "I'm trying to get her on that!"
Dear producers at Channel Nine, if you're reading, please make this happen.