NOTE: The treatment Keira underwent is NOT laser sculpting, but I asked about it and included details about it anyway.
Reality star Keira Maguire has proved she's on the forefront of beauty treatments, once again undergoing a procedure most of us have never heard of.
The former Bachelor and I'm A Celebrity Get Me Out Of Here contestant previously had us rubbing our eyes in disbelief when she shared images of blood smeared on her face having undergone what's known as a 'Vampire facial'.
This time she's shifted her focus from her face to her derriere – sharing videos of herself in the midst of something called a 'Brazilian butt lift' at Sculpting Haus in Sydney, in an Instagram story on Saturday.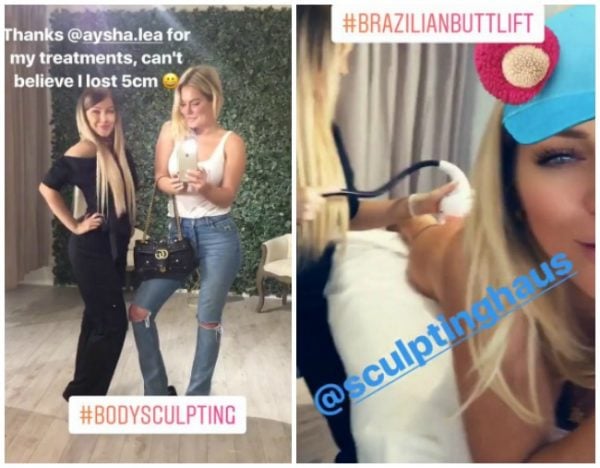 Followers saw a "vacuum suction" instrument applied to the 31-year-old's butt, before she thanked the operator, claiming she "lost 5cm".
So what procedures did Keira undergo and what exactly is involved in a Brazilian butt-lift?
Sculpting Haus owner Aysha Learmonth, who performed the treatment on Keira, tells Mamamia it's actually a series of several non-surgical therapies the clinic offers which are designed to "reduce fatty deposits" and "enhance the tone and shape of your buttocks by up to 70 per cent".
She says these treatments are fat cavitation, radio frequency skin tightening and a moderate-firm vacuum treatment - all of which are pain-free.
Learmonth said fat cavitation uses ultrasound waves to break down fat cells so the body can expel them, with the vacuum treatment also designed to break down cellulite and fatty deposits, and radio frequency skin-tightening works with collagen in the deep layers of skin to tighten your skin.
Interesting.
What are the results?
Aysha says the results of a recommended four sessions varies, but those undergoing the treatment will notice a change in skin change and texture and some women will lose up to eight centimetres.
For the best results, she recommends patients do some post-treatment exercise to "complete the elimination process of the released fatty acids".
"We all want to see those results coming in quick and it's great to see our treatments kick-start a healthy lifestyle for our patients."
"Infrared saunas are also great post-treatment as well as a healthy balanced diet preferably with reduced salt content."
At at least $289 per treatment, it's not exactly budget friendly.
Especially when cellulite is something that most - if not ALL - women experience at some point their life.
And, in case you were wondering, it's definitely not something you need to freak out about.
Listen: What it feels like to get botox. (Post continues...)

And what about laser sculpting?
Aysha says the Brazilian package doesn't involve a laser sculpting or 'Laser Lipo', and it's not recommended for everybody, just for faster results on patients who have more fat they want to lose.
But HOW can something be 'Lipo' when it's not liposuction, I hear you ask?
Obviously it's a "low-level laser [that] is also pain-free with no downtime and creates a chemical signal in the fat cells that break down stored fat to be released from the cell membranes."
"The fat cell contents are released and removed through our lymphatic system."
Now, there's no requirement for any woman to have these treatments. Your body is your body. It is yours and yours alone. So if you do decide to have any of these treatments, the most important thing is to be informed about what the procedure involves and always consult a trained professional.