NOTE: The treatment Keira underwent is NOT laser sculpting, but I asked about it and included details about it anyway.
Reality star Keira Maguire has proved she's on the forefront of beauty treatments, once again undergoing a procedure most of us have never heard of.
The former Bachelor and I'm A Celebrity Get Me Out Of Here contestant previously had us rubbing our eyes in disbelief when she shared images of blood smeared on her face having undergone what's known as a 'Vampire facial'.
This time she's shifted her focus from her face to her derriere – sharing videos of herself in the midst of something called a 'Brazilian butt lift' at Sculpting Haus in Sydney, in an Instagram story on Saturday.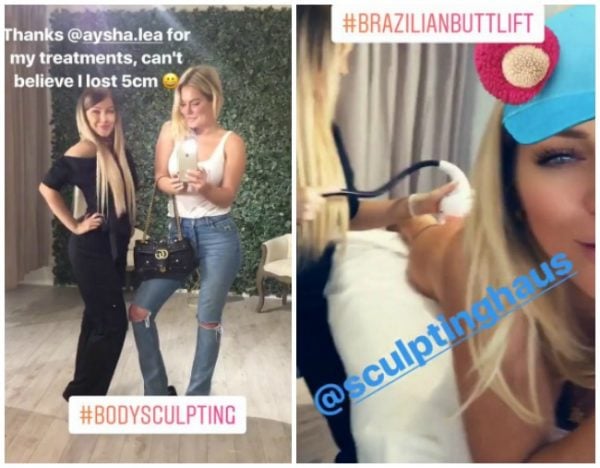 Followers saw a "vacuum suction" instrument applied to the 31-year-old's butt, before she thanked the operator, claiming she "lost 5cm".
So what procedures did Keira undergo and what exactly is involved in a Brazilian butt-lift?
Sculpting Haus owner Aysha Learmonth, who performed the treatment on Keira, tells Mamamia it's actually a series of several non-surgical therapies the clinic offers which are designed to "reduce fatty deposits" and "enhance the tone and shape of your buttocks by up to 70 per cent".
She says these treatments are fat cavitation, radio frequency skin tightening and a moderate-firm vacuum treatment - all of which are pain-free.