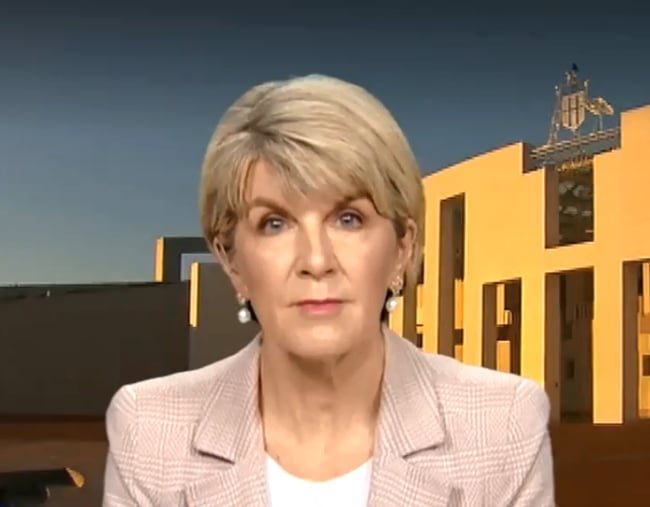 The last 24 hours in Australian politics have been turbulent.
We almost got a new Prime Minister. Then we didn't. And now we might again. It's basically the real life version of Survivor we're certainly not paying our politicians to play.
You didn't come here for a full explanation of the complicated mess, but if you'd like one, you can stay up-to-date with the latest Aus Pol news here.
Now, back to the rogue news.
One person who's remained quietly steadfast throughout this latest leadership spill is Deputy Leader of the Liberal Party  Julie Bishop.
While some are asking why the Minister for Foreign Affairs doesn't just walk in there and take the PM title for herself, Bishop has maintained her loyalty to dear Malcolm Turnbull during these troublesome times.
Her interview on Today on Wednesday morning echoed a similar, if not slightly sassier, sentiment.
Speaking to Today co-host Karl Stefanovic about the state of Australian politics, Bishop expertly shut down the journalist known for throwing his interviewees controversial questions.
You can watch the brilliant moment unfold below. Post continues after video.
When asked by Stefanovic how it felt "talking to a man on death row" a.k.a the PM, Julie (can we call you Julie?) answered with the straightest face of all time…
"Well I'm talking to you, Karl. What are you suggesting?"
Her response, which left Stafanovic appropriately stunned, comes not long after Channel Nine suffered a ratings slump, the worst in four years, News.com.au reports.
Although it was only a small moment of triumph during a time when everything's a bit uncertain, we now know one thing for sure.
You don't put a woman who can handle the likes of Karl Stefanovic, Donald Trump and Kim Jong-il in a corner.
Are you concerned about what's happening in Australian politics? Tell us in the comments.