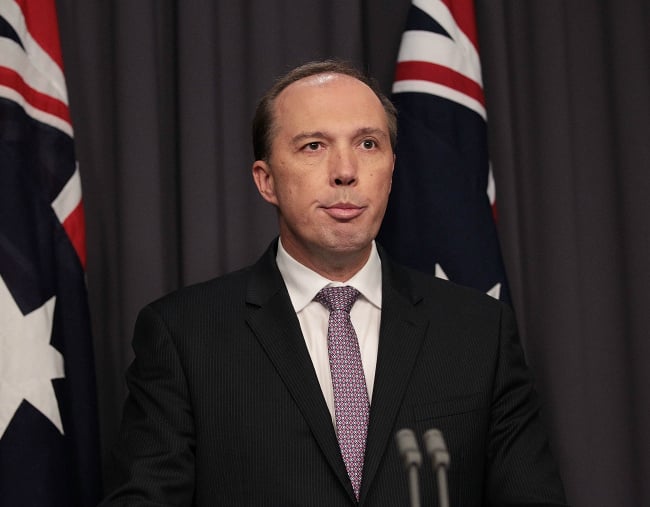 Prime Minister Malcolm Turnbull is facing the biggest threat to his leadership since taking over as leader of the Liberal Party in 2015.
There is speculation Home Affairs Minister Peter Dutton could challenge Turnbull for the Liberal leadership, amid concern over the government's National Energy Guarantee.
"I enjoy the confidence of the cabinet and of my party room," Turnbull told reporters in Canberra on Monday.
Asked whether he had spoken with Dutton, the prime minister said his cabinet colleague was at the leadership group meeting on Monday morning and had attended cabinet last night.
"He is a member of our team. He has given me his absolute support."
So, why am I suddenly seeing "leadership spill" everywhere all over again?
The coalition's primary vote has dropped from 39 to 33 in just a month, according to the latest Fairfax/Ipsos poll published on Sunday night.
Labor leads the coalition 55 per cent to 45 per cent on a two-party preferred basis.
The Australian reports that rebellion on the Liberal backbench spread over the weekend as ministers struggled to achieve internal consensus on the National Energy Guarantee.
The public divide has lead to speculation Dutton may make a move for the Liberal leadership with the support of conservative party members.
The speculation gathered steam after a radio interview last week where Mr Dutton said further disagreements could lead to his resignation from cabinet.
He took to Twitter on Friday to "make very clear" that the prime minister had his support as did the policies of the government, but The Australian claims a number of MPs called Dutton over the weekend to pledge their support should he challenge Turnbull.
Okay then, so why is Dutton the one tipped to challenge Turnbull for the leadership?
Quite simply, because he can.
Dr Zareh Ghazarian, a political scientist from Monash University's School of Social Sciences told Mamamia that leadership challenges happen because the system allows it.
In 2013, Kevin Rudd left Labor a parting gift of rules designed to stop constant leadership changes. The Liberals, however, are still traditional in the sense that the party's members of parliament vote for their leader.
Dutton represents a much more conservative Liberal Party than Turnbull, whose policies have been very much based on socially progressive ideals.
"Dutton represents Liberal MPs who were supporive of Tony Abbott and have been feeling disappointment with Malcolm Turnbull's leadership and policy portfolio," Dr Ghazarian said.
"I think this challenge, if it is coming, is not about the National Energy Guarantee alone. This is the last straw for many of these MPs. Turnbull has lost their support because of a whole list of policy decisions made that they would oppose."
Another reason Dutton is seen as the most likely to mount a challenge is because he is a well-recognised figure from Queensland. In order to win the next election, the government will need to defend eight marginal seats in the state, including Dutton's own seat of Dickson.