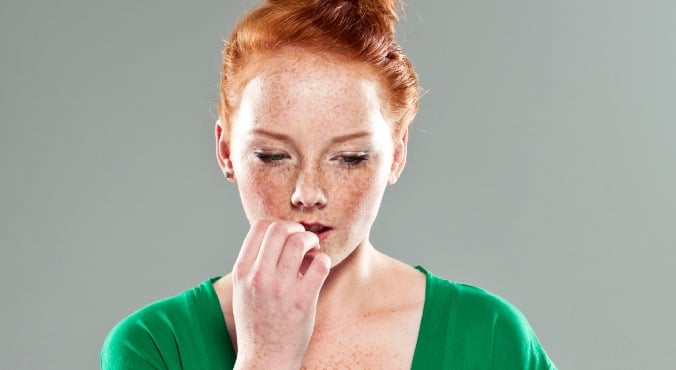 Image: iStock.
During stressful times, some people lash out at their loved ones. Me? I prefer to unleash my frustrations on an even more unsuspecting bystander: my fingernails.
Okay, so my nails also cop a gnawing when I'm not overly stressed. I chew them when I'm bored, I nibble at them when I'm thinking, and when I don't have nail scissors handy… carnage ensues.
RELATED: 6 life-changing products for anyone who fails at painting their nails
Nail chewing and picking is a decidedly unpleasant habit, and most of us are fighting a constant battle between the urge to bite and the desire to have lovely, strong, smooth nails that actually look good under a coat of varnish.
Kicking the habit is one thing — but what next for your embattled nails? I took my many (mani?) questions to Erin Margrethe, the manicurist behind Melbourne's glitter-happy Blonde Tiger salon, to find out how to help your nails heal and undo any trauma your teeth have inflicted.
Rather than tut-tut me for my chewy ways, Erin says nail biters shouldn't be ashamed by their habit. "It's quite normal. We all have our little quirks and habits, and we go through periods of indulging them and starting up the whole shame cycle that comes along with it," she explains.
Now we've moved past the "shame spiral" stage, here's what you need to know. (Post continues after gallery.)
So, what's the damage?
"Biting the nails is unsanitary and gross, but I have yet to see any long-term damage. Weirdly, ex-nail biters generally have the strongest nails. The constant trauma seems to encourage nail growth," Erin says.
Well, that was unexpected. However, if your biting and picking extends to your cuticles and the skin around your nails, Erin says you're in a bit more trouble: "Aside from unsightly sores and scabs, you'll end up with overgrown, hard, callused skin around the nails — which just begs to bitten and picked at all the more."
RELATED: How to completely disguise chipped nail polish
You're also not out of the woods if you pick off your nail polish or Shellac. Erin says each time you do this, a layer of your nail is simultaneously removed, leaving them thin and weak. One-time offenders probably don't have to worry, but over time you could leave your nails so thin they can't even support gel polish. Uh oh.
When you stop biting, how long will it take for your nails to heal?
Happy(ish) news: if you've only been biting your nails, your recovery time is shorter because it's the free edge of the nail that's been compromised, not the surface.