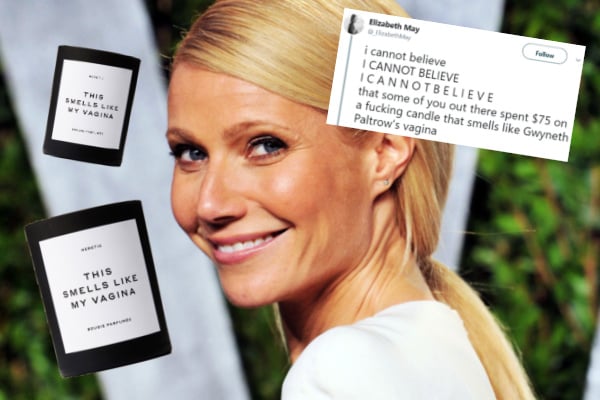 Fact: Gwyneth Paltrow's creativity when it comes to making expensive wellness products that sell out in seconds knows no bounds.
For example, you might remember just last month the actress-turned-Goop entrepreneur released a very merry Goop Christmas gift guide featuring such necessities as a $364 luxe brass fire extinguisher and a $144 dehydrated caviar bar.
Now, Paltrow (who also happens to be releasing a Goop Netflix show in 2020) is back with her latest must-have item.
Take a look at the trailer for The Goop Lab with Gwyneth Paltrow on Netflix. Post continues after video.
Forget vaginal steaming and definitely forget yoni eggs, because what you really need in your life is a vagina-scented candle.
Over the weekend, Goop dropped the 'Smells Like My Vagina' candle designed with natural fragrance brand Heretic Parfum on their website.
Described in the listing as smelling "funny, gorgeous, sexy, and beautifully unexpected," the AU$108 chic monochrome candle is made with notes of geranium, citrusy bergamot, cedar absolutes, Damask rose and ambrette seed to "put us in mind of fantasy, seduction, and a sophisticated warmth."
'Smells Like My Vagina' promptly sold out within hours. Don't stress though, you can sign up to be on the waitlist for when it's restocked and get an American friend to smuggle it into Australia for you. Phew.