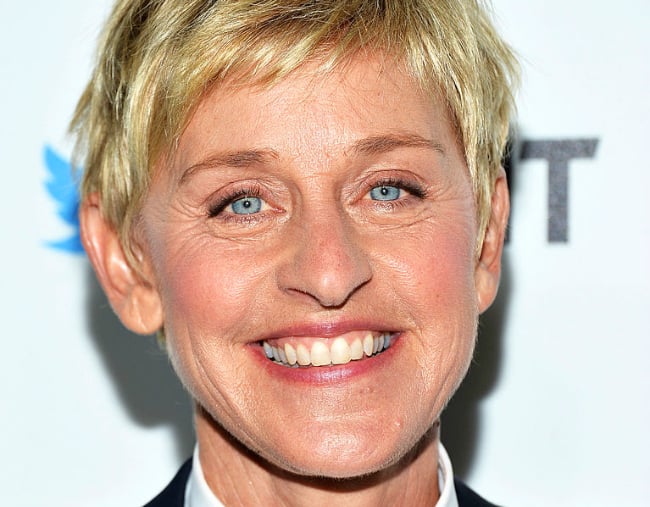 Decades before we came to know her as the dancing, suit-and-sneakers wearing daytime TV host, Ellen DeGeneres was an up-and-coming stand-up comic.
But it was a tragic loss in her early 20s that kick started the actress and author's career in comedy.
In 1986, DeGeneres' stand up routine called "Phone Call to God" on The Tonight Show Starring Johnny Carson earned her the title of the first female stand up comic to be invited to Carson's "couch" for an interview – an honour that meant she'd "made it".
Speaking to fellow actor Dax Shepard on the Armchair Expert podcast, the now-60-year-old shared the personal tragedy that inspired the performance that led to her professional success.
Watch DeGeneres' career-defining stand up routine below. Post continues after video.
DeGeneres was a 20-year-old struggling waitress in New Orleans when her then-girlfriend was killed in a car accident. After her partner's death, she moved out of the home the couple had shared into a dingy apartment with only a flea infested mattress to sleep on.
"[I recall thinking] why is this beautiful, 21-year-old girl just gone and fleas are here?" the Finding Nemo actress told Shepard.
"And I just thought it would be amazing if we could pick up the phone and call up God and ask questions and actually get an answer."
And so the inspiration for that groundbreaking stand up routine was born.
DeGeneres first came out publicly in April 1997 on the cover of Time Magazine. Her cover title read: "Yep, I'm Gay".
20 years after DeGeneres came out, we took a look back at the very long road that led to Australia finally legalising marriage equality. Post continues after audio.
"I decided this was not going to be something that I was going to live the rest of my life being ashamed of," she told Diane Sawyer of that decision on 20/20, Vanity Fair reports.
Days later, her character in her sitcom Ellen came out during a one-hour two-part episode. As 44 million people watched on, DeGeneres' Ellen Morgan became the first LGBTQI lead character on TV.
DeGeneres has been married to Australian actress Portia De Rossi since 2008.
In 2016 DeGeneres was honoured by former President Barack Obama with the presidential Medal of Freedom for her work in the LGBTQI community.
"It's easy to forget now, when we've come so far … just how much courage was required for Ellen to come out on the most public of stages almost 20 years ago," he said.
"But it's like Ellen says, 'we all want a tortilla chip that can support the weight of guacamole'."